Home » Uncategorized
Kāpiti Coast's Greenest Street: Cheap & Chilled Community Education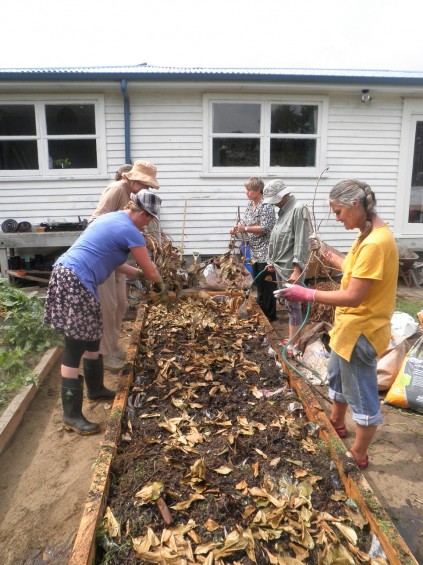 Blog 5: by Stacey Gasson
Steve Bright is one of those people who seem willing to turn their hand to most things, except maybe being interviewed. The prospect of talking about himself has him looking for cover – next time I'll remember to frame the request as a technical problem….
As one of the coordinators for Kakariki Street, Steve is a part-time single parent of two school-age children and a conservation contractor by day. He's also a Scout master and self-described odd-job man, and moonlights as a construction engineer helping a local person design, and hopefully later build, an 'Earthship'-type building. When I asked him why he got involved with the Greenest Street competition, I figured it wasn't because he was bored.
Steve says, "I saw Greenest Street as a chance to get to know my neighbours better, for us to be more co-operative and help each other. The reality is, when you're a single parent, you need all the help you can get. It's also a chance to share our resources and work. June [when the competition ends] probably won't change much for us – Greenest Street has just been the means to kick-start things, like the community mulcher* and our gardening bees".
One of Steve's latest projects has been his involvement with Chill-Ed, a series of workshops he describes as "community-based knowledge sharing, at koha rates, by community for community".
Started last winter by a group of locals, supported by Kāpiti Coast District Council, the Chill-Ed series has taken on a life of its own. Each series is planned and organised within three weeks, starting with two lists: skilled locals and requested workshops. As one of the organisers, Sam Buchanan, says,
"Everybody has something they can teach and something they need to learn, it's just a matter of getting the latter together with the former".
Almost everybody approached to host a workshop is happy to take part, particularly when it's explained that this isn't about being an expert, but 'showing others how you do what you do'. Dates are chosen within the allotted month and venues are found (mostly tutor's backyards, homes or decks, though the Scout Hall, beach and Playcentre also feature). A copy of the programme is delivered to every household in the village and away it goes.
Chill-Ed II: The Return is currently underway and boasts 19 workshops, ranging from everyday yoga to long-line fishing to homebrewing. Many of the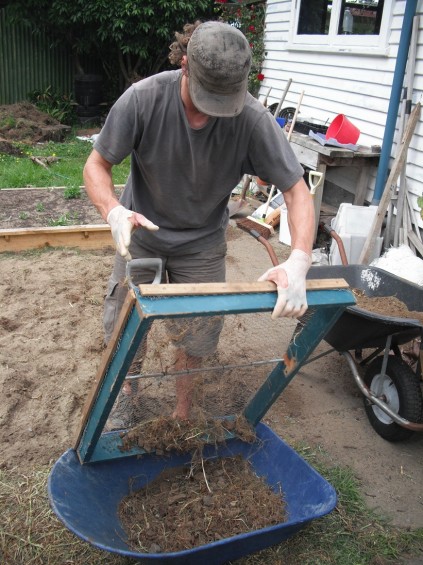 workshops have a sustainability theme, accentuated by the involvement of Kakariki Street. Having planned to learn about things such as rainwater harvesting, greywater reuse, permaculture and vegetarian cooking, Kakariki St decided to pool their energy and resources with the Chill-Ed team and make these opportunities available to the whole community.
Chill-Ed I saw Steve fronting an introduction to Earthships, in which he outlined the basic principles of Earthship buildings and their pros and cons, illustrated by his experiences as part of the Low Carbon Network (Brighton) team that built the Brighton Earthship in 2003.  Earthship buildings were developed over the last thirty years or so by American architect Mike Reynolds to reduce the costs of building new houses, the running costs and the ongoing environmental costs. He coined the phrase 'biotecture' for his ideas and designs for buildings that work in harmony with the Earth's natural systems and use what he what he describes as 'the new natural resource' – old car tyres – as the basic building block.
Last week Steve made good on his promise of a practical demonstration and showed nine Chill-Ed II participants how to pound a tyre full of earth and use it to build a retaining wall. On the weekend he and Flo co-piloted 'Building a Raised Bed 101', a workshop that took participants from a pile of planks to creating a lasagna garden in their newly-constructed frame. Steve's dislike of public speaking comes to the fore as he admits that the first workshop was totally nerve-wracking, but he now knows what to expect: friendly, enthusiastic people with lots of questions who aren't afraid to get their hands dirty. He laughs as he recounts last weekend's success, "It's great – they built a garden for me and paid for the privilege!"
Personally Steve has found Greenest Street has resulted in lots of small subtle behaviour changes – he uses the car less; he recently opted to take the ferry and train from Wellington to Christchurch instead of flying ("Very pleasant, I recommend it"); he finds himself turning off appliances at the wall more; and he spends far more time in the garden growing produce for his family. Gardening is a brand-new occupation for him and has been a definite learning curve. His next goal is "to learn to use the stuff I grow".
When I ask Steve if he thinks he would have been so engaged in his neighbourhood and made these changes without Greenest Street he says it's been good to have the incentive of the competition. Sure, he admits, Greenest Street isn't essential and people could do these things under their own steam, but for those of us who haven't yet, an incentive may be needed. His advice to those who do want to build their communities would be to (take a deep breath) knock on your neighbour's doors and introduce yourself. Looking for ways of working together and sharing stuff, like working bees, can be the key to growing those relationships.
When I close by asking Steve what his hopes are for the next few months of the competition, he tells me they've already happened: "We're working more strongly together and helping each other. The pea straw is a classic example – I'm doing a swap with Holly for some chainsaw work".  Of course.
[* More to come on this: in summary, Kakariki Street applied for a Waste Reduction Grant from Council to purchase a mulcher. As Steve explains, this is the kind of tool that's expensive to hire and not used a lot, but will enable residents to process and reuse their green waste on site.]
Stacey Gasson is the Sustainable Communities Coordinator with Kāpiti Coast District Council and one of the organisers of the 'Greenest Streets' competition. This blog is part of series profiling participating households and their projects.
GD Star Rating
loading...
GD Star Rating
loading...
Tags: green