Home » Uncategorized
365 Days of Fun and Chillaxation – 335 – Stone Arrow Jewellery
Submitted by Charlotte on March 29, 2011 – 7:00 pm
I just thought I'd do a little plug for my friend Nick Feint's amazing jewellery because he just posted a link to it on facebook and I was enthralled.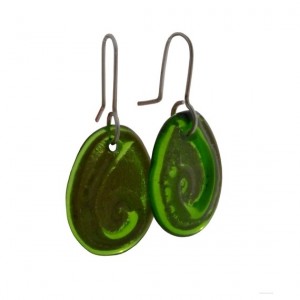 Nick lives at and runs Stone Arrow Jewelery from Tui Community, Golden Bay.  He's been a jeweler forever and you can tell.
His work is beautiful.  It's sophisticated and made with heart.  His pieces are very obviously influenced by our beautiful New Zealand landscape – he features paua, spirals, the Pohutakawa tree, green stone, waves, and more, more, more.  It's lush.  I love the vivid colour he uses and the merging of intricate details with curving free-form.  You've got to check it out.  But watch out if you're a sucker for gorgeous jewelery.
You have been warned.
Some of Nick's pieces are made from 100% recycled glass.  All of it comes with a life time guarantee.  And just to top it off, it's surprisingly affordable.
Nick, you're a rock-star – both literally and on more subtle levels.
Today's rating: 9/10
365 Days of Fun and Chillaxation (as I raise my gorgeous son and grow my good news website to a subscription base of 100,000 people).  The Low Down on this Blog.
Check out my NEW ebook 'Ten Ways to Have Fun and Chillax As You Live Your Green Dreams' – how to mix positive thinking with going green to achieve fantastic results (for yourself and the planet).  Now you can 'Like' the facebook page '30 Days of Fun (and Chillaxed) Green Change – April 2011′ and reach your Green Dream along side other green-dreamers, this April 2011.
GD Star Rating
a WordPress rating system
GD Star Rating
a WordPress rating system
Tags: art