Home » Blog
365 Days of Fun and Chillaxation – 347 – Check out the Rayman – Part of the New Generation of Feel Good Books
Submitted by Charlotte on April 10, 2011 – 8:53 pm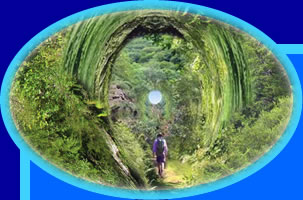 Hey there Happyziners!
I just wanted to remind you of a book I discovered last year called the Rayman. It's a book that was written with the intent to uplift and inspire.  I think it's one of those novels us optimists could all do with a copy of.
Although everyone who reads it loves it, this book has still to have its true 'heyday'.  It was very well received here in Golden Bay, as many of us know the author – Ray Parkes – so we checked out the book and were deeply inspired.  But as a micro-cosm of the rest of the planet, Golden Bay's only a small example of what's possible for this book.
Did you see the Avatar?  I see this is the literary version of that movie.  It's a sweetheart of a read.
Here's the original book review I wrote about it.  Here's some stuff I said about it last year when I wrote that review:
"The major thing about this book, the thing you've really, really got to know, is that it manages to combine all the ingredients of a juicy read: believable characters (warts 'n all), a hard to predict, twisting plot, occasional moments of grief and tension, tender love, heart-warming moments of relief and success, unconditional kindness, and interesting dialogue between characters and the thing is: it's minus any violence, cynicism, or bedlam.
In fact, the whole novel is set within a community who appear to communicate in a surprisingly healthy, honest manner, live very natural, healthy life-styles, and respect each other, regardless of their differences.

There's a vein of goodness running through this novel that I held onto with both hands."
Check out the Rayman website here.
Today's rating: 10/10
365 Days of Fun and Chillaxation (as I raise my gorgeous son and grow my good news website to a subscription base of 100,000 people).  The Low Down on this Blog.
Check out my NEW ebook 'Ten Ways to Have Fun and Chillax As You Live Your Green Dreams' - how to mix positive thinking with going green to achieve fantastic results (for yourself and the planet).  Now you can 'Like' the facebook page '30 Days of Fun (and Chillaxed) Green Change – April 2011′ and reach your Green Dream along side other green-dreamers, this April 2011.
GD Star Rating
loading...
GD Star Rating
loading...
Tags: book