Home » Gardening
Lincoln University Graduate Brings 'Power'ful Green Plan to Central London
Submitted by Charlotte on May 19, 2011 – 6:27 pm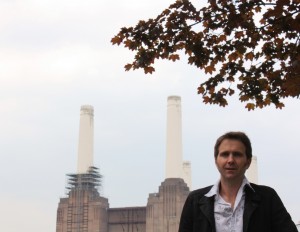 18 May 2011
NEWS FROM LINCOLN UNIVERSITY
Lincoln University landscape graduate brings 'power'ful plan to Central London
A Lincoln University landscape architecture graduate is set to stamp a distinctive green mark on the future appearance of Britain's capital city through a plan to "forest" the spaces between buildings in Central London's largest regeneration project, on the site of iconic Battersea Power Station.
Sam Martin, originally from Peel Forest and a South Canterbury farming family, graduated from Lincoln University with a Bachelor of Landscape Architecture (Honours) in 1993 and Master of Landscape Architecture in 1996. He moved to London in 2001 and established his own company, Exterior Architecture Ltd, in 2003, specialising in large scale private residential garden design throughout the UK and Europe.
Lov'n the good green news? Check out the ebook 'Ten Ways to Chillax and Have Fun As You Live Your Green Dreams'.
Now, along with the biggest UK-based landscape firm, LDA Design, Sam's company has won the multi-million dollar contract for the landscape component of the Battersea Power Station regeneration project.
"This is a once in a lifetime opportunity to create a new park in Central London," he says. "We will be working to create great public spaces where Londoners and visitors can enjoy spending time. It will benefit the residents in this part of south-west London and also improve London's bio-diversity."
The power station site is the last remaining large riverfront development opportunity in Central London.
The master plan for the 15.4 hectares site is by New York architect Rafael Vinoly and it provides for over nine hectares of open space, including 2.5 hectares of public park. The power station, built in the 1930s, was de-commissioned in 1983. The redevelopment includes residential structures, commercial retail outlets and even a new tube stop.
Sam says the plan is to bring a "forest" feel to the area by greening the spaces between the buildings.
"The forest will feel lush, productive and full of nature and will mediate between the vast brick facades of the power station and the glassy elevations of the new blocks."
After graduation from Lincoln University Sam worked for a period in Christchurch and designed Canterbury Agricultural Park. Projects in Britain have included the New Zealand Garden in Savill Garden, Windsor Great Park, opened in 2007.
FOR FURTHER INFORMATION CONTACT
Ian Collins, Communications Group, Lincoln University
Tel: (03) 3252811 ext 8549. Mobile: 021 02449637
Dreaming of a green career? Check out the Happyzine 'Green Dream Launch Pad Course'
GD Star Rating
loading...
GD Star Rating
loading...
Tags: green design