Home » Events
Hands Across Sand – Positive Action Taken On Beaches Around the Globe to Protect Environment
Submitted by Charlotte on June 21, 2011 – 7:34 pm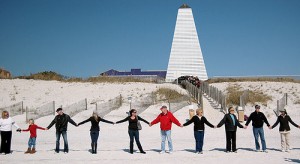 INTERNATIONAL DAY OF ACTION AGAINST OFFSHORE OIL DRILLING
25th June 2011, 12 noon
Tahunanui Beach, Nelson
Motueka Quay at Jeanie Seddon, Motueka
Pohara Beach, Golden Bay
On 25th June 12 noon Kiwis will kick off the international day of action against offshore oil drilling. Hands across the Sand events are planned in at least nine locations throughout the country, three of them in the top of the South.
Many other countries are taking part – such as Australia, UK, Ireland, Canada, Mexico, Colombia, Peru, Greece, Italy, Portugal, Norway, South Africa and 180 events confirmed in the US alone!
People in Nelson, Motueka and Golden Bay will have the opportunity to join hands and draw a line in the sand to say NO to expanded fossil fuel extraction in NZ and urge the Government to abandon their fossil fuel agenda. It is a step to help move NZ towards a Clean Energy Future.
On a local, national and global level, Joining Hands sends a powerful visual message of human solidarity to our leaders. We are unified in our concerns and our hopes for the future.
We don't want to take the risk of a catastrophic oil spill happening in our treasured waters.  We want to protect our coastal economies, fisheries and the marine environment. We don't want to contribute to Climate Change by supporting further fossil fuel extraction. Instead we want the Government and the public to wake up to the economic opportunities NZ will miss out on, if we don't prioritize the development of home-grown clean technologies.
Every time we join hands that message is reinforced.  Come and join us at Tahunanui Beach in Nelson, the Motueka Quay by the Jeanie Seddon in Motueka, or at Pohara Beach in Golden Bay – 25th June 2011, 12 noon.
The action will take place rain or shine. If it is a sunny day, there will also be other activities planned, such as a picnic, sand sculpture building and music.
Check out www.handsacrossthesand.org
GD Star Rating
loading...
GD Star Rating
loading...
Tags: planet