Home » Green technology
Outback Growth Goes Green
Submitted by Charlotte on November 21, 2011 – 4:31 pm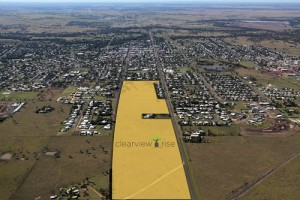 Released: 18 November 2011
MEDIA RELEASE
OUTBACK GROWTH GOES GREEN
Roma in western Queensland has staked a claim in the increasingly sophisticated field of environmentally sustainable development.
Clearview Rise, by the Urban Land Development Authority, has today (18 November 2011) been awarded full EnviroDevelopment certification in recognition of outstanding environmental initiatives across all areas of the project's planning and design.
The project is located on 20 hectares along Upper Bowen and Currey Streets, and is approximately 1.5 kilometres west of the Roma Town Centre with the Roma General Hospital situated immediately to the north of the eastern portion of the UDA.
Achieving certification across all six EnviroDevelopment areas – ecosystems; waste; water; energy; materials and community – allows Clearview Rise to display the relevant symbols to communicate these achievements to the general public.
EnviroDevelopment National Manager Kirsty Chessher said that while EnviroDevelopment-certified projects could now be found all across Australia, Clearview Rise achieved a milestone by being the most inland certification in the country situated as it is 470km west of Brisbane.
"We hope that the certification of Clearview Rise will set a new benchmark for other regional growth projects and show that it can not only be done, but it can be done extremely well," Mr Chessher said.
"Environmentally sustainable development is no longer the exclusive domain of cities and coastal centres," she said.
"Clearview Rise now provides the residents and future residents of Roma with an option to live in a diverse, green and innovative development which offers amenity and reduced operating energy and water costs."
Clearview Rise is the fourth Urban Land Development Authority development to be recognised as a certified EnviroDevelopment and entrenches the Authority as a leader in the delivery of sustainable development.
The Clearview Rise site is degraded due to the previous agricultural uses – a problem which will be addressed through concerted rehabilitate strategies.  The landscaping will feature exclusively native species, with the species list having been developed in consultation with Maranoa Shire Council and based on both site inspection and research into what grows successfully in the Roma region.
A number of pocket parks provide recreational opportunities and contribute to the amenity and character of the area.  Identified as a key community need for the area, the main design consideration of Clearview Rise is the 'green spine', connecting all three parks within the development and creating a green visual link.
The proposed lot layout allows for climate appropriate orientation, ensuring lots are orientated perpendicular to the prevailing breeze.
Design Guidelines provide requirements to ensure dwelling layout considers ventilation, shading and landscaping to optimise the environmental performance of each lot and enhance the subtropical character of the area.
The developer will work with builders and contractors on the site to ensure waste minimisation and recycling techniques are employed, including the use of 20% environmentally responsible materials into dwelling construction along with the use of non-toxic products and local suppliers.
GD Star Rating
loading...
GD Star Rating
loading...
Tags: sustainable building