Home » Arts
The Clean Bin Project film features at Reel Earth Environmental Film Festival in Palmerston North
Submitted by Charlotte on May 9, 2012 – 1:49 pm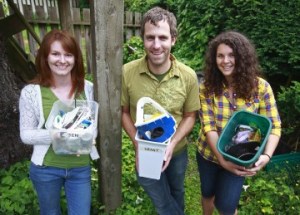 Is it possible to live completely waste free?
Partners Jen and Grant go head to head in a comedic battle to see who can swear off consumerism and produce the least amount of garbage in an entire year.
Their light-hearted competition is set against a compelling examination of the sobering problem of waste in our 'throw-away' society.
Featuring interviews with renowned artist and TED lecturer, Chris Jordan and marine pollution expert, Captain Charles Moore, The Clean Bin Project presents the serious topic of waste reduction with optimism, humour, and inspiration for individual action.
The Clean Bin Project has been selected as the opening night film at the Reel Earth Environmental Film Festival in Palmerston North.  The team will also be visiting a bunch of schools and community events while they're in town. The movie will be screening at the festival the evenings of May 11th and May 15th (details and trailer at http://www.reelearth.org.nz/the-clean-bin-project-3).
Grant Baldwin / Canada / 2010 /  77min
FRIDAY 11 MAY, 8pm & TUESDAY 15 MAY, 8PM:
GD Star Rating
loading...
GD Star Rating
loading...
Tags: green film