Home » Family
Domestic Daddy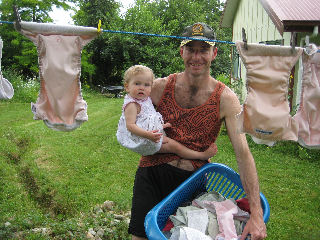 Due in part to the financial obligations of today's society, fathers often miss out on spending valuable time with their children.  Certainly, there are mothers who must fulfill these obligations, yet more often it is the responsibility of the fathers to spend heaps of time away from home; in order to earn a living.  Time away from home results in the fathers not being able to bond with their children or their partner and the father is not present to witness their children's development.  This also puts a strain on the stay-at-home mother who is constantly tending to the children and the domestic obligations. I feel this scenario creates a rift for the entire family.
In an effort to remedy this division from occurring in our family, I have become a Domestic Daddy for part of the week.  Once our daughter became less dependent on mum, especially concerning her need for constant breast feeding, and once mum became a bit restless at home; we decided I would look after our daughter two days per week.  I am very grateful for the opportunity to look after our child.  It has been an adjustment for me.  It was a bit of an adjustment for my partner, she still sends texts asking how Isla and I are doing.  I've learned to update my partner often in an effort to minimize her concerns.  I also send texts asking questions relating to all those little details I took for granted.  Details like, "She won't eat porridge, or avocado, or steamed veggies.  What else can I feed her?"  or, "I've tried teething powder, the cold teething ring, warm milk, and walks outside.  Isla is still crying, what else should I do?"  My partner responds with, "Have you checked her nappy?"  Of course, change her nappy, that's a great idea, mums are so clever!  There are so many details to take into account.  I've also learned to get things ready in anticipation.  When Isla is napping or preoccupied with her toys, I get a fresh nappy ready, I get the breast milk out of the fridge, I set aside the food to be warmed up, I get a change of clothes ready, and then I check "The Honey-Do List."
Most men know about their version of "The List."  This list is chock full of heaps and heaps of things for Daddy to do, things other than looking after the child.  Minding a ten month old that crawls fast and gets into everything is a full time task.  I have to make sure all the doors are closed and everything, except baby toys, are put away.  Of course, there is always something I forget to secure or put away.  I haven't even finished my breakfast or gotten dressed, Isla is crawling around and getting into mischief and there's "The Honey-Do List" my partner wants me to work through.  I had this preconceived idea I'd be able to tend to some of the items on my tiny to-do man-list, but that was being far too optimistic.  My chance to tick off items on my list occur when my partner and child are sleeping or when they are out and about town.  So many adjustments to make when you have a child.
I'm adjusting to my days with Isla and I've gained more appreciation for all the things mothers tend to that men often take for granted.  Our daughter has learned that I can also meet her needs.  I'm now adept at comforting her and reading her signals.  Isla feels comfortable with me, she rarely misses mum; unless she sees mum leave or hears mum arrive home from work.  I'm also getting better at dressing her in appropriate cloths that match well.  I'd like to share more about my experience as a Domestic Daddy but Isla is waking from her morning nap and I have heaps of things to tick off of "The Honey-Do List."  Wish me luck!
Theron Burgess
GD Star Rating
loading...
GD Star Rating
loading...
Tags: Happiness, kids, optimism, personal sustainability, Youth