Home » DreamtoReality: Project Planet
Win One Year of Life Coaching and Support to Reach Your Environmental Goal!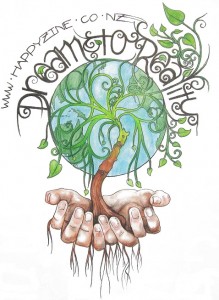 Happyzine Dream to Reality: Project Planet.
"Enough with focusing on what's wrong, it's time to dream about what's possible environmentally, and make it happen," says Charlotte Squire, founder of good-news website 'Happyzine'.  She's offering one New Zealander the full support of the Happyzine team to bring an environmental dream from concept, to  reality before December 1st, 2010.
"In terms of global awareness about the state of the environment, and the knowledge that we need to do something about it, the only restrictions are coming from our imaginations.  We can make a difference to the earth, one inspiring project can create ripples right across the planet.  This year, we want to show how amazingly effective it is to combine positive, creative thinking, with environmentalism," says Squire.
Nationally acclaimed Life Coach Clem McGrath – who has nearly thirty years coaching experience  – is

supplying his support for the year. He'll check in regularly, and will lend his experience and skills towards the success of the project.
We also have the support of some of the world's leading environmental change agents – for example Seager Mason – former CEO of BIO GRO NZ – New Zealand's leading organic certification agency.
As well as this, Happyzine will also approach the Mayor of your home town and ask them to lend their support, along the local media (just to spread the word and inspire community support).   Squire says that the Happyzine team will be liaising with New Zealand's environmental and business networks to rally support for project through-out the year. She also said that there were several other "useful surprises" in store.
Squire gave some examples of positive environmental opportunities that people may want to see come into fruition.
"You may long for your local river to undergo a transformation from sludgy to serene.  You may want to see your local marine environment shift from lifeless to thriving.  You may wish to upgrade your business from blissfully ignorant, to brilliantly green and sustainable.  What ever the dream, we can help you make it happen.  It's going to be fun, and you're going to feel very, very supported."
Who will make it through to the short list?
Top candidates must demonstrate key attributes such as optimism, determination, passion, life-balance and an open mind.  You must be prepared to strive openly towards your goal with the support of the Happyzine community.  You must be comfortable with being publicly mentored through the highs and not-so-highs of your process.   You must demonstrate faith in your ability to make this dream of yours happen.  You'll need to convince our readers, our Life Coach Clem McGrath, and the Happyzine Editor – Charlotte Squire – that you're the person to see this challenge through to success.
How to Enter
Send us your applications, and explain your vision to us.  Tell us how your dream will make a huge positive difference to the New Zealand environment, and why your goal is worth supporting.  We want you to be as convincing and engaging as possible.  We will post all applications up on Happyzine.  We will accept (and encourage) submissions in the form of video, blog, audio, photographs, art-work or anything else we can post on line.  Be as outrageous as you dare.  Keep your language and content clean (we're a family website) and your attitude positive.  Ask your friends, family and community to support you with their comments and votes (thumbs-ups).
Guidelines
Send your application into info@happyzine.co.nz before Monday the 22nd of February 2010.  You must be signed up to our weekly good news ezine to enter. You must be based in New Zealand.  No late entries will be accepted. If you're under eighteen you must have the written and signed permission and support of one care-giver.  We will decide upon the final top-five shortlist by Monday the 1st of March and there will be one final week to vote, so tell your friends and family to give you the big 'thumbs up' at the bottom of your entry. We will announce our decision on Monday the 8th of March.  Your first Life-Coach session will begin soon after.
GD Star Rating
loading...
GD Star Rating
loading...
Tags: Environment, Sustainability