Home » DreamtoReality: Project Planet
The Winning DreamtoReality Entry: Emily Harris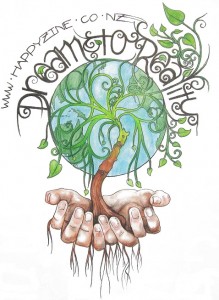 My name is Emily Harris. I'm 25 years old and at the end of last year I finished a legal internship. The natural next step for me was to get a job with a law firm and go into practice. As I contemplated that I realised that immersing myself in the corporate world wouldn't help me to pursue my dream of making a real contribution to my community and our environment. So I decided instead to strike out on my own. I've started by writing a blog on sustainable living and connecting with groups of others who share my passion, but I want to contribute more directly to lessening our impact on the environment. I want to find ways to make environmental responsibility resonate with the whole community in a genuine way. I want to take people beyond paying lip service to environmental responsibility by getting them actively involved in sustainable practices – not because they feel like they should but because they want to.
My vision…
Is for the rooftops of the apartment buildings in Auckland's CBD to turn green. I want to establish rooftop gardens for city-dwellers, so that they can grow their own fresh, healthy food, right on the roof of their apartment building. I want to teach them the skills of growing their own food, and provide them with the resources they need to set up gardens. As someone who lives in a central Auckland apartment, I know how much value people like me would get from having access to green spaces where we could grow our own food.
This will have a huge positive impact on New Zealand's environment because…
Growing food locally will give people better access to nutritious organic food, transform wasted spaces into green productive spaces, and reduce carbon emissions from food transportation. There are also flow-on environmental benefits, for example a reduction in how much waste garden participants throw away because they begin to view food scraps as valuable material for composting for the garden, not just rubbish. Additionally, showing people how they can take ownership of one aspect of their relationship with the environment will encourage them to take responsibility for other aspects of their relationship with the environment.
Working together on a project like a shared garden will generate community spirit, something that is often lacking among inner-city apartment-dwellers. Community spirit leads to a greater sense of social responsibility as we see, in a practical way, how together we can create great results. Social responsibility leads to an enhanced sense of environmental responsibility, as we see how everything we do has an effect on each other and so feel more motivated to protect the resources we share.
It's not just about creating a few gardens on a few rooftops. The people living in apartment buildings in Auckland's CBD today won't live there forever. They'll move out to the suburbs, to different cities, and they'll start families. But they'll take their gardening skills and sense of social and environmental responsibility with them. And they can share that knowledge and passion in their new communities, and pass it on to their children.
If Happyzine helps me to achieve my vision publicly, then other New Zealanders will see what can be achieved when people come together to work towards a common goal. They'll see how much fun it is to be involved in a community project like this one. Some of them will be inspired to do the same thing in their community, and local food growing will spread like ripples in a pond.

How I will make this happen…
My vision is too big for me to achieve on my own. I'm not an expert at gardening, but I'm part of a group of people called Ooooby, who are passionate about creating access to fresh, locally produced food for all New Zealanders. So I'm confident I can get some gardening gurus on board to share their knowledge and experience.
There are lots of examples of successful community gardening in New Zealand, and big cities overseas have successfully transferred the community garden concept to the rooftops, as the images in my video show. Rooftop gardens can be tailored to the available space, structural support, weather exposure and facilities of a building, and also to the time commitment that participants can make. Removable planter boxes can be used so no permanent alterations to the building are needed.
With Happyzine's help I'll generate publicity for my vision, and connect with city-dwellers who would like to grow their own food, but have been held back by barriers like lack of suitable space and lack of gardening knowledge. Once those barriers are removed, and the benefits of communal gardening like saving money and forming connections with neighbours become tangible, others in the buildings will be keen to get involved. As for getting building owners on board, there is anecdotal evidence that rooftop gardens can increase the value of buildings by making them a more desirable place for people to live. An objective of the project would be to get garden participants to take ownership of their garden, including keeping it tidy and maintained, so that it would contribute to, rather than detract from, the aesthetic of the building.
Having the backing of Happyzine and the other businesses that are behind Dream to Reality will assist me in obtaining financial support to bring my vision into reality.
This project could bring healthy sustainable living to a large number of New Zealanders who have not really had the opportunity to grow their own food before. I have the passion and the drive to pursue this goal, and with Happyzine's support I'm confident I can achieve it.
GD Star Rating
loading...
GD Star Rating
loading...
The Winning DreamtoReality Entry: Emily Harris

,
Tags: dreams, good news, Happiness, motivational, optimism, positive news, Sustainability