Home » Family
Celebrating Our Tamariki/Children in Aotearoa
Submitted by Charlotte on March 11, 2010 – 8:10 pm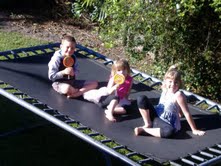 For years, people everywhere have celebrated Father's Day and Mother's Day, and as of 2000 Children's Day has existed.  With many great events being held for children of all ages such as Toddler's Day Out, organisers have created a fantastic way to celebrate Children's Day. On the first Sunday of March each year, communities are brought together to share fun family activities and to also gain awareness of child safety and education for parents and caregivers about 'Giving Time'. Through this, families and communities are brought closer together.
On the 7th March 2010 in Auckland, there was a range of events happening to celebrate Children's Day.  On Central Park Drive, the main event was Toddler's Day Out and the Great Parenting Fair giving non-stop friendly information, rides and activities.  In Henderson was Kids' Day Out with similar activities such as The Funky Monkeys, Old MacDonald's Farm, face painters, balloon sculptors, story tellers and bouncy castles.   Children's Day Out in New Lynn offered a diverse range of activities: live music, maypole dancers, plant sales, a sausage sizzle, face painting and pavement drawing.
Given the number of events increasing all over New Zealand for Children's Day, more and more parents and communities are coming together to encourage and support the well being of children in all families.
By Zandy Smith
GD Star Rating
loading...
GD Star Rating
loading...
Tags: good news, kids, positive news