Home » Uncategorized
Going Green? How to Chillax and Enjoy Yourself
Submitted by Charlotte on April 11, 2010 – 11:08 am
This is the second in a series by Charlotte Squire on Sustainable Environmentalism.
Go on, enjoy the process! You deserve to feel good while you create an exciting environmental future
I've got news for you: it's O.K. to have a really good time as you create great things for the planet. There can be so much guilt wrapped up in this greener world we're moving into –"don't eat that, it's not organic," or "don't drive to work you scoundrel, it's a total waste of resources, get on your bike". On the whole, I recommend you stick with what you're good at, use your strengths, and relax. Your guilt will only get in the way and block your natural brilliance, so don't buy into any of that nonsense. Just trust your gut and make the positive differences you were born to make, your way.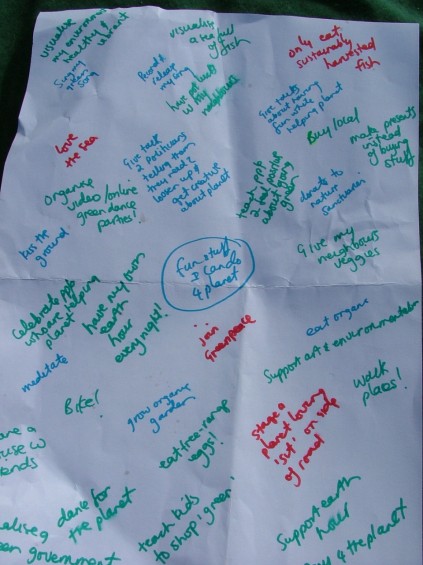 If you'd like to take this a step further – here's an easy four step process for you try:
Grab three pieces of paper (recycled if you have them) right now, and on one page brainstorm thirty ways you can contribute to a more exciting environmental future. Let your imagination have an ideas party, nothing is too wild, too silly, or too boring, or impossible. Just let that information trickle through your pen and onto paper – all thirty ideas, they're in there I know it! Afterwards, give yourself a hug and congratulate yourself for your creative genius.
Take another piece of paper and write all your ideas into a long line, or columns if you need to, with room on the right hand side of each point.
Rate your ideas – from 1 (totally possible for me to implement in a very enjoyable manner within the next year), 2 (will take longer and more energy, but still possible, perhaps, one day), 3 (leave this idea for now).
Take your third piece of paper and make a list of your '1's. Write them into your diary, or calendar, invite your friends and family to get involved if you'd like to, make it happen, enjoy it! Save the list of '2's. Throw away the '3's.
Amazing! Well done! You've done a great job. Now chillax.
GD Star Rating
loading...
GD Star Rating
loading...
Tags: earthhour, Emotional sustainability, good news, motivational, optimism, personal sustainability, positive news