Home » Events, Headline
Bringing it together: What will it take to create a Just, Sustainable, and Fulfilling Future?
Submitted by Charlotte on April 22, 2010 – 7:26 pm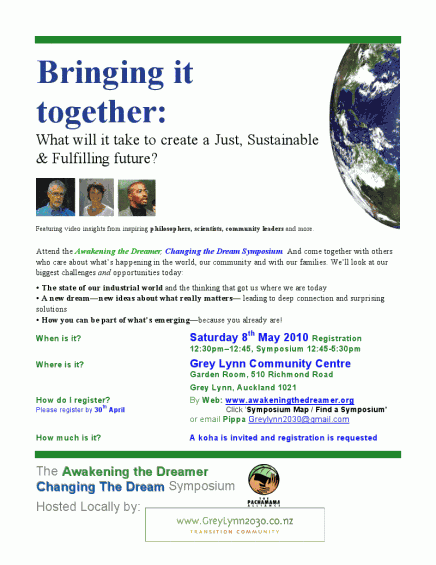 You can no longer save your family, tribe or nation. You can only save the whole world.
Margaret Mead
You are invited to participate in the internationally acclaimed symposium "Awakening the Dreamer, Changing the Dream" which is being presented in Grey Lynn for the first time, in partnership with Grey Lynn 2030.
It's not always easy to listen to the gloomy news about threatening climate change, worldwide unrest, or injustices across our planet and it's even harder to know what you can do about it, or perhaps why you should make the effort.     If you care about what is happening in the world, in our community and with our families come and join like-minded people at this remarkable event.
In particular, the invitation is extended to those interested in local action who want to operate with a global vision and who are:
* Active citizens in their organisations or community groups and want to take a fresh (and transformative!) view of our world,
* Active in a particular area of their life and want to understand how they fit into the larger picture, or
* Just starting to understand how what is happening in the world affects them.
We'll look at our biggest challenges and opportunities today:
• The state of our industrial world and the thinking that got us where we are today
• A new dream—new ideas about what really matters— leading to deep connection and surprising solutions
• How you can be part of what's emerging—because you already are!
Please note that spaces are limited and registrations will be accepted on a first in first served basis- details below.
The Symposium will be led by experienced, local facilitators Carl Chenery, Maya Nova, Crea Land and Peta Joyce.
Details of the Symposium
When:  Saturday, 8 May. 12.30pm – 5:30pm. Please have lunch before arriving at 12.30 for a 12.45 start. Afternoon tea will be provided by GreyLynn 2030.
Venue: Garden Room, Grey Lynn Community Centre, 510 Richmond Rd, Grey Lynn, Auckland.
Cost:  A Koha is invited
Registration: To register, please do so online here. or email Pippa at Greylynn2030@gmail.com  and provide names of those who will attend, email address and contact phone.
More details about the Symposium
The Symposium takes a fresh look at our most critical current concerns – environmental sustainability, social justice and spiritual fulfilment – and explores and exposes what connects them. Participants interact together in pairs and small groups, between video segments of well-researched information and interviews with some of the world's most respected thinkers and doers, including Paul Hawken, Van Jones, Desmond Tutu, Julia Butterfly Hill, Brian Swimme and Thomas Berry.
The Symposium was presented, for the first time in New Zealand in June 2008. Since then, the symposium has been presented fifty times around New Zealand.  Each time demand has been strong, for further symposia and for facilitator and leadership training.  The video material used in the symposium is available for use by people who train locally to present it.  If after participating you would like to train as a presenter, ask the facilitators.
You can find out more at http://awakeningthedreamer.org/ or the parent group, the Pachamama Alliance, on the web http://www.pachamama.org
Participant Note:
The Symposium is an invitation for you to find yourself with a new perspective on the world – and a new clarity on your stand for the future.  Not just a position – another set of facts backing you further into a corner you are familiar with – but a fresh stand which calls you into committed global citizenship – without making others wrong. We recommend you participate with an open mind and an open heart, and be listening for how you can become a more effective global citizen at a local level.
This event is for people who are open to awakening to and engaging with our highest purpose in a period of global transition.  The initiative has no political affiliations, and  is intended to embrace all spiritual traditions. It has a highly researched and verifiable factual basis, and draws on interviews with many global thinkers and leaders.  While we are developing some New Zealand content, it is currently a global resource which addresses people in the developed world.  The Symposium is deeply moving, and we strongly suggest you participate fully for the duration.
Please feel free to contact us if there is anything else that would be useful to know.
"A life spent making mistakes is not only more honorable but more useful than a life spent in doing nothing."    George  Bernard Shaw
GD Star Rating
loading...
GD Star Rating
loading...
Tags: dreams, Environment, personal sustainability, Sustainability