Home » Uncategorized
Bees in Winter
Submitted by on April 29, 2010 – 7:50 am
2 Comments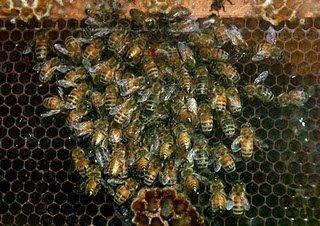 Honey bees snuggle-up during the colder months, they don`t actually hibernate like bears do, but gather into a ball-shaped mass close to the stored honey and pollen that they have collected, (supposedly plenty has been left by the beekeeper), here they stay for the length of the winter with each bee vibrating to keep warm, slowly moving from the inside to the outside – the queen always warm and toasty in the centre of the huddle.
If the days warm up slightly and the sun comes out, the bees can be tricked into coming out of the hive to attend to their ablutions, leaving yellow spots on your washing or car as in my case! They are fastidious creatures who will never do such messy business inside their home – they can hang on for weeks!
The hive is very quiet during these cold days and nights, so quiet you would never know anyone was home unless you press your ear close to the entrance and there will be a faint humm. . . I have been known to tap loudly and be greeted quick smart by a few guard bees ready to take on the intruder.
It is best to leave the hive alone until spring, then you have to make sure there is enough food left, as the queen will start laying furiously again – all set for the new season . . .
GD Star Rating
loading...
GD Star Rating
loading...
Tags: honey bee, Sustainability