Home » Community
Salads and skill-sharing: what makes a community money system into a "community glue"
Submitted by on May 19, 2010 – 11:04 am
2 Comments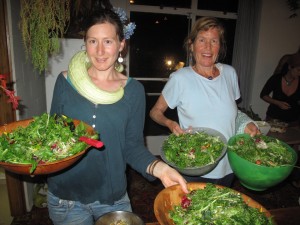 Pausing, I look up to see three warm-hearted women kneeling around a coffee table in front of me. Each gazes intently at a crystal in her hand. Each dangles her prism over the positive and negative ends of a cylindrical AA battery on the table in front of her, determined concentration furrowing our faces. I laugh, as a warm autumn mid-morning sun streams in across the bushy hills to the north; "another only-in-Golden-Bay moment," I declare, and we all chuckle in knowing appreciation of the bizarre things we humans sometimes get up to around here. Of course it was a very serious occasion – on this Monday morning, we were in school. A very different kind of school, however. The classroom was the rounded open-plan lounge of a local herbalist and naturopath, our teacher for the day. The day's curriculum: "A Beginner's Guide to Pendulum and Muscle Testing," in which nine students, many of us interested in becoming more intuitive healers, would learn time-tested physical diagnostic tools based on the electrical systems of our bodies. In short, we were there to learn ways to bypass the logic of our thinking brains which had been nourished so intensively in other kinds of schools for many years.
Last year, the National government announced that it would cut funding for the well-attended public adult education courses that have long been held on evenings and weekends at Golden Bay schools and elsewhere throughout New Zealand. But the governing committee of Golden Bay's local currency trading network, HANDS, decided community education was too important a thing to let a far-away government do away with. (HANDS, a.k.a. How About a Non Dollar System, is Golden Bay's local alternative money system – see previous blog here.) So the members of the HANDS network decided to start our own adult education system, funded by and for our own community.
This autumn, the first course catalogue appeared in the local newspaper and went out over email to the HANDS network's 400+ members. Course offerings include one day workshops in practical skills like harakeke weaving and vegetable preserving, and weekly classes on topics ranging from environmental economics (the version of economics that most of us didn't learn in high school) to fire poi. The classrooms are tutors' homes and community halls. Of the instructors I know personally, none are actually professional teachers; they are mostly skilled people in the community, artists, healers and otherwise learned individuals. Hidden in the hills of Golden Bay (and everywhere) are wise people with a lot of life experience that they could share. Now they have a way to share it.
"What does all this have to do with community currency?" you might ask. Or rather, my editor might ask that! After all, I've been asked to write this blog to document our community's popular HANDS system as a model for alternative community-based money systems elsewhere. I wondered the same thing a few weeks ago, on a festive Sunday evening at the HANDS Autumn Family Feast, as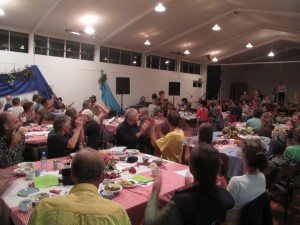 adults merrily conversed and gorged, while children ran riot: What does all this fun and togetherness have to do with community currency? (However I was distracted from answering at the time, as I marveled at 14 kilos of lush organic salad greens harvested from the Golden Bay Community Gardens for the meal, and as I slurped on vegan avocado ice cream for dessert and dissolved into bliss….)
Well, the answer is: all of this has nothing to do with community currency. And it has everything to do with community currency! Perhaps one major reason for the success of Golden Bay's "Non-Dollar System" has to do with "community glue," to borrow a term from a local permaculture teacher. Quite simply, HANDS transactions and events bring people together to share and exchange in ways that they otherwise might not. At the annual harvest feast, 140 people gather to bask in abundance. Everyone pays admission in HANDS; everyone who contributes, whether by cooking a stew or playing music on stage, is compensated in HANDS; and somehow, all of us together provide all that we all need. In the case of our educational system, I can't imagine all of our local experts spontaneously deciding to offer courses in topics which are sometimes too deliciously freaky (or too politically and philosophically radical) for the regular night classes that used to be held at the public high school in town. But the HANDS community education system creates an open opportunity for local people to share their expertise, with payment allowed in HANDS or dollars to honour the exchange. A tiny fee is added to course fees to pay a part-time administrator some HANDS for organising it all from home. It's a school without walls. Once again, I observe how our local monetary system has proven a platform for organising a successful community event – and in this case, it may be the beginnings of an evolving institution. This week I'm going to meet for a beer with some fellow local poets to discuss our ideas to lead a series of creative writing workshops. On a more sobering note, perhaps as our globalised world economy continues to crumble and shake, sharing survival and sustainability skills within our community in this way could become even more vitally important.
As this is only my second blog about the HANDS system, I was thinking I should get into the nuts and bolts of the economic theory behind local currencies. But I find myself circling still around what for me is the heart of HANDS: the richer sense of community that our local money system facilitates. Stories about our own community currency system are riddled with "only-in-Golden-Bay moments." Not everything we do here in Golden Bay is applicable to alternative currency systems everywhere, nor should it be – the point is to celebrate our uniqueness, the flavour of this place. That's why the HANDS exchange vouchers (our local version of dollar bills) are decorated with drawings of musical instruments and seascapes, instead of etchings of some queen across the ocean. In turn, I invite you, wherever you are, to think about how a community currency exchange system might celebrate and heighten the uniqueness of your own community. Because if HANDS' idiosyncratic successes do hold any universal lesson, perhaps it's this: if an alternative economy is going to engage people and thrive, it's got to start out by being more fun! In successive blog entries, I'll get into more of the accounting and the political implications of alternative currencies. For example, I'm interested to explore how concepts of debt and surplus — and economic and social hierarchy — become redefined in a totally local, interest-free economy with no central bank. But today, I'll be content just to sit in the sun with a living room full of local loons, questing after truth and healing, learning from each other as we dangle our pendulums in the sun.
GD Star Rating
loading...
GD Star Rating
loading...
Tags: good news, positive news