Home » Uncategorized
Win a Lush Green Golden Bay Getaway!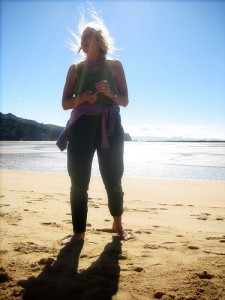 Ahhh Golden Bay.  The hidden green valley.  To get there you'll need to cross the marble mountain in the north west corner of the South Island, Aotearoa/New Zealand.  There are thousands of ecologically wise people already in residence (it has one of the highest percentages of Green Party voters in New Zealand).  There you'll find an impressive assortment of deep, clear rivers to swim in, gorgeous empty beaches to explore and an encouraging assortment of healthy, intelligent and welcoming people.  Once you've experienced 'The Bay' you'll never forget its slower pace of life, its pristine natural landscape, or its friendly, colourful, open minded community.  The people there tend to choose quality of life over the 'rat-race'. Some call it a world of its own.
Introducing the Happyzine Lush Green Golden Bay Getaway Prize Draw.  Are you ready to drool? You could win this package for two …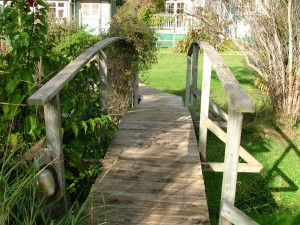 You and one other person could stay for two nights at Golden Bay's eco-friendly Sandcastle Chalet Accommodation.  Nestled deep in the Pohara Valley, Golden Bay, the 'Sandcastle' boasts six self-contained chalets set upon a park-like sanctuary.  Features of the Sandcastle include: gorgeous cabin-like chalets – set up to cater for either a couple or a family, an outdoor spa pool, a sauna, acres of native trees and fruit trees (spray free of course) to take time out in, free ranging lawn-mowing sheep, a busy flock of hens, a medicine wheel (around which the cycles of the moon and the seasons are often celebrated) and a well-loved, safe, great-for-taking-long-walks-on beach five – ten minutes walk away (Pohara Beach).  This, combined with the warm, welcoming presence of Steve De Feu (Owner of the Sandcastle) and his family, make for a relaxed, replenishing stay.  Check out a recent blog about the Sandcastle here, which also includes a You Tube video of the Sandcastle.
Waiting for you in your lush Sandcastle Chalet will be your very own fresh woven flax basket containing your new assortment of organic oils and

soaps.  The organic oil range will be from Wild Flower Herbals.  Sharon Campbell has been growing and enjoying the benefits of herbs for over twenty years. Since 1994 she has been creating and producing the Wildflower Herbal Products.  All herbs are grown organically at Fantail Forest – the property in Golden Bay where she lives with her family.  According to Sharon "Every living thing has a life force. Wildflower Herbal Products, in the art of aromatherapy, contain organically grown herbs, organic beeswax, flower seeds and nut oils and the very life force of the plant itself – the pure essential oil."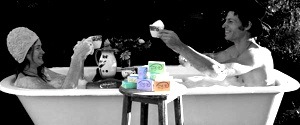 Also waiting for you will be your Clean Earth Soaps.  These soaps are made with approximately fifty percent olive oil and fifty percent certified organic content (EcoCert and NASAA).  Kerryn and Phil (who are posing for you in the bath, and run Clean Earth Soap) source their palm and coconut oils from sustainable growers.  Clean Earth Soaps are handmade from traditional recipes at home, not in a lab.  This gorgeous soap leaves your skin nourished, feeling soft and moisturised.  It's extremely gentle and mild (great for babies).  If you keep it in a dry soap dish, it will out-last a commercial bar.  It's free from detergents, foaming agents, synthetic dyes and colourings.  Kerryn and Phil are also committed to reducing stuff, recycling as much as possible and reusing things.
While you're in the Bay, keep your Saturday night free for a trip west to indulge in a meal for two (including a desert) at the world famous Mussel Inn.  Check out a recent blog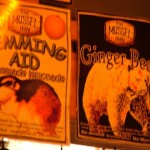 about the place.  Golden Bay's most popular 'Bush Cafe' has its own micro brewery, is governed by impressively green principles (the owners really walk their green-talk, in fact they've won a few awards for their efforts) and attracts some of the world's most reputable performers to veer off the 'beaten track' and perform to lively, appreciative, occasionally table-dancing and often heaving audiences.  This place is a must-see for all visitors to the Bay who would like to enjoy a great feed with some fine ales, ciders, beers or home-brewed fizzies.  Owners Andrew and Jane Dixon have created a culture that they describe as 'Kiwi Woolshed meets Aussie Farm House', and their success with the Mussel Inn is evidence enough to prove they've struck a chord.
While you're in the Bay another must-have experience is Golden Bay's own, community-run Village Theatre. We've got tickets for waiting for you …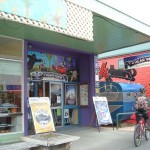 This is the movies meets your living room.  And watch out, they play community photos before and after movies so you may find yourself up on the big-screen.  This theatre is equipped with enormous bean-bags for rest and recreation, an assortment of comfy couches, as well as your usual theatre seating.  There really is an atmosphere of sweet relaxation.  In the Village Theatre you can truly let it all hang out.  There's none of that underlying tension you get in the bigger Kiwi theatres, oh no, 'we're all family' at the Village Theatre.  People will smile at you automatically and you can still indulge in the usual range of decadent movie going foods (as well as some yummy gluten-free organic treats involving chocolate).
How to win the Lush Green Golden Bay Getaway
Help us spread the good news about our good news website to every far-flung pocket of Aotearoa/New Zealand by gathering up the email addresses of your extremely willing friends, family and contacts and emailing them to us: info@happyzine.co.nz
It's imperative that each of the email addresses you send us are from people who would LOVE to receive a free positive-news ezine update every Monday.
Each email address that you send us (to info@happyzine.co.nz) will put you in the draw one more time.  You can send us in as many email addresses as you like.  So for example, if you email us in ten email addresses you will have ten chances to win this Lush Green Golden Bay Getaway.  And let's face it.  This ain't Lotto.  The odds are high.
Important information:
This amazing prize package for two (it could ALL be yours) does NOT include travel to, from or within Golden Bay.
The formatting of the email addresses is important: they must come one after the other in the body of the email and be formatted like this: bob@happy.co.nz, sally@joyful.com, allie@goingplaces.org, angus@imgorgeous.co.uk  etc.  So we need a comma between each email address.  If the formatting's wrong, we'll send them back and coach you to get it right.
You have until Wednesday, August the 11th, 2010 at 5pm to send in your email addresses.  We will not accept any email addresses after 5pm.
You can live in Golden Bay and enter this draw!
Children under 18 can enter, but must be accompanied by a legal guardian (otherwise known as an 'adult')  if they win.
You must be prepared to take this trip anytime from mid-September to the end of October.
Make sure the person you're going to sign up to Happyzine hasn't already signed up or we can't accept the email address.
You can send in several batches of email addresses if you like, just make sure we know who you are and that you've already sent some email addresses in.
We will randomly test the email addresses that you send us, if we find that any of them have been 'borrowed' without gaining the willing and eager permission of the email address owner, we will discredit all your email addresses.  So be very careful to get each person's permission.  This is super important, it's international ezine law that we can only send Happyzine to willing recipients.
Ideas to help you get out there and find the people who are willing to sign up to Happyzine
Take a pen and paper along to: your friends' houses, your gatherings, fairs and fetes, your favourite shops, your places of education, your streets, parties, BBQs, pubs, potlucks, your garage, your dairy, your work, your dentist, your doctor, sporting events, sports practice, your massage therapist, your auntie's house, the family reunion, kindy, the organic shop, the hairdressers, the rock concerts, the festivals and where ever else your people hang.  Invite them to sign up.  Get their email address.  Go over it twice with them and make sure you got the details right.
All entries into the Lush Green Golden Bay Getaway are subject to the following terms and conditions:
Entry into this competition constitutes an agreement to these terms and conditions
Competition is open to any age group but winner must be over 18yrs or accompanied by an adult of 18yrs or older
Submitters will receive one entry into the prize draw for each legitimate email address supplied
Prizes must be taken up between 20/9/2010 and 30/10/2010
Prizes are not transferable
No cash alternative to prizes is offered
No travel costs whatsoever are included as part of the prize offered
Any email submitted without owners permission will invalidate the submitter from any entry into this prize draw
Submissions must arrive with Happyzine before 5pm on Wednesday 11th August 2010 to qualify
No late submissions will be accepted
Draw will take place on 12th August 2010
Winner will be notified by email
Winner agrees to their name being published in Happzine's newsletter and on the Happyzine website
GD Star Rating
loading...
GD Star Rating
loading...
Tags: draws, dreams, good news, opportunities, Sustainability