Home » DreamtoReality: Project Planet
Dream2Reality and Emily Harris: yMedia Challenge 2010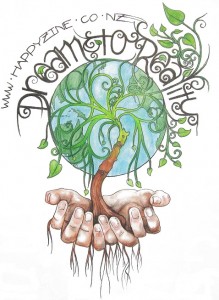 I have no graphic design talent and the idea of me creating my own website is laughable. My skills deficiency means that since embarking on my rooftop gardens project and founding Urban Pantry I've been presenting myself to the world with no logo, no business cards and a placeholder website that my more talented partner kindly whipped up for me. So I was incredibly excited when Urban Pantry was selected to participate in the yMedia Challenge 2010. The yMedia Challenge brings together students, not-for-profit organisations and industry mentors to produce a communications project for the not-for-profit. The Challenge focuses on using new media to help not-for-profits communicate with their target audiences more effectively. New media basically means online communications tools, and includes websites, blogs and social media. We're currently a week into the eight-week Challenge.
The yMedia Challenge draws in communications and design students from Auckland tertiary institutions. Mentors
include representatives from huge advertising agencies like Saatchi & Saatchi through to boutique digital design firms. The students work with the not-for-profit under the guidance of the mentors to come up with a brief that meets the not-for-profit's needs, and then implement it. It's a valuable opportunity for students to gain experience in working with a real client, and to form connections in the industry. It's a great opportunity for mentors to give something back. And it's absolutely fabulous for not-for-profit organisations, which wouldn't normally be able to afford such a high quality new media project.
The yMedia Challenge has produced some impressive results in previous years, such as last year's project for the Grey Lynn Farmer's Market, so I'm incredibly excited about the possibilities for Urban Pantry this year. My team are brewing up some great ideas already, which I'll share with you as the yMedia Challenge progresses. If you'd like to know more about the yMedia Challenge, check out yMedia's website. If you're interested in taking part in next year's Challenge, I recommend signing up for their email newsletter so you'll be the first to know about it.
GD Star Rating
loading...
GD Star Rating
loading...