Home » Uncategorized
Full Harvest – How One Woman Works With Heirloom Seed to Enjoy Organic Food All Year
Submitted by Charlotte on July 10, 2010 – 4:44 pm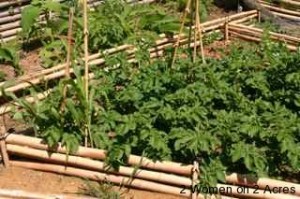 Introducing the Kiwi woman who is on a quest for organic self-sufficiency – Susie Franks …
When I am unable to connect with my land for a few days, I feel as though a 'piece of me' is missing. It's kinda like when you forget to put your watch on and all day you  keep going to look at it, seemingly more than usual or you continually keep 'feeling' the empty space – or you forget to put on your 'lippy' before dashing out of the front door and you feel 'naked' – I have to rely on others for this analogy!!
An Invisible Connection to Mother Nature
I have a unique connection to my land. It gives me vivid pictures of how it wants to look. It gives me signs of what it wants me to do  on any given day. this may sound 'whoo whoo' to many, but to those of you who are connected strongly to the Earth and Mother Nature, you know exactly what I'm talking about.
But why am I telling you this?
The answer is very simple, gardener's are not born, we are made from months, even years of tending our land. Learning its every nuance, every breath, and every triumph. I also believe to be a 'true' organic gardener that you have to allow Mother Nature time and space to do what she does best – provide the food we eat.  I have been self – sufficient in my kitchen garden for over two years.



My harvest is a continual one which changes with the seasons and with these changes comes a change in diet and new exciting seasonal flavors… something money cannot buy.
It's Time for Everyone to 'Grow their Own'
With the worsening World economy, it's time to turn back the clocks and make room in our personal spaces for the food we eat.  For too long we have given our power away to huge commercial seed companies which have rewarded us by modifying the very thing Mother Nature provided us with – our precious seed banks.  These 'modified' seeds are now failing on a massive scale with real repercussions reverberating through out the World.
Rice was difficult to buy this time last year in ALL parts of the World because a significant Indian crop failed to germinate and the seeds that did were riddled with pests and disease. With very real threats to our food sources, it really is time for us to take back our power and begin to cultivate our own land for it to provide the food we eat.
Growing Organic is Simple
If you decide to follow organic gardening principles, not only will you have nutritious laden vegetables but you will have a naturally simple task – let Mother Nature do the hard work, she knows it so well. All you  have to do is provide a few basic requirements: food, water and protection.  Organic gardening was the original concept and is gardening in it's purest form – feed the soil and nature takes care of the rest. Everything you require can be sourced for 'free' and apart form the initial hard work all you need to do is sow, grow, harvest and feed the soil.
Why I Grow Heirloom Vegetables
Heirloom varieties are the 'pure' seed, which comes from the original 'wild' varieties. Many of these varieties have been handed down from generation to generation for hundreds, sometimes thousands of years.
Think about what this means: for generations one seed has been lovingly sown and protected from cross-pollination. Never, have any heirloom gardeners I know found the need to  'modify' any of their precious varieties. they simply sow, grow, harvest and save seed in a timeless cycle with dedicated determination.
Heirloom varieties come with a long story attached to their history, one which makes it worth owning the variety! They grow differently from commercial hybrids, in a slow, steady manner, ensuring each stage of development is a strong and continual process. After all they have to provide a harvest and set seed and they know this.
My dinner plate is a veritable artists palette of colors: white and purple carrots; lime green cauliflowers; purple and yellow beans; red and violet cabbages… I hope you will join me every week as I share how you too can have your own successful heirloom vegetable garden. It's time to sow and grow your own!
About Suzi Franks
I live in beautiful New Zealand on a 2 acre piece of paradise. I have hand built my extensive Kitchen Garden using bamboo for the raised beds that have replaced one of the paddocks. We are nearly self sufficient in all our vegetable needs, growing every conceivable type of vegetable I can find. In fact, I think I am addicted to collecting heirloom seeds:)
I grow heirloom vegetables, heritage fruit and nut trees and rare native plants, and use organic principles with permaculture thrown in for good measure!! I have researched organic gardening for the last 4 years and searched high and low for my precious heirloom vegatable seeds and heritage trees.
I would like to share my knowledge and organic research findings with everyone, because I believe now is the time to get growing your own food and re-empower yourselves against the economic climate that we live in. I can guarantee that once you taste your own produce, hybrid or heirloom, you will wonder how ever we got to the tasteless offerings in the supermarket…
I have a dream: Our 2 acre piece of paradise will have an Earthship house, be self sufficient in terms of energy and food. We will use solar and wind power for energy and everything we aim to grow will either fed us or our growing number of animals:)
I also have a web site which is a cross between the tales of our experiences and a portal in which I can share my knowledge and experience of organic gardening and growing heirloom vegetables and heritage trees.
That's me, clean green and simple:)
GD Star Rating
loading...
GD Star Rating
loading...
Full Harvest - How One Woman Works With Heirloom Seed to Enjoy Organic Food All Year

,