Home » Uncategorized
Food, Glorious Sustainable Food!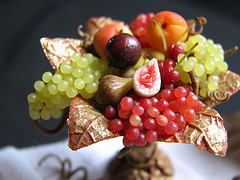 Food is my greatest love. You might think it would be my darling partner, my wonderful family or my long-dead cat. No, it's food. I love nothing more than food. And not just the eating – I love everything about it; that it comes from the earth; that it needs to be nurtured by sun, soil and human hands; that it magically swells and grows to deliver flowers and fruits and grains and leaves that in turn nourish insects and birds and livestock and us. I love the look of food – the crisp, ripe, plump, succulent shapes and the mosaic of colour. Then there's the cooking side of things – the endless unctuous combinations and flavours. The inventions. The experiments. Delivering nourishment to friends around a groaning table – nothing pleases me more. What is life without food?
But food is a dilemma with 6 and a half billion of us to feed (not sure if catering for that dinner party would please me quite so much!). Simply meeting the demand of so many hungry mouths is a major global issue today and into the future. Plus we must also strive to produce food in a sustainable way that does not deplete soils, contaminate rivers, and require endless habitat to be cleared and species threatened.
Design may hold the key to unlock this problem. Permaculture (permanent agriculture) is often held up as the solution to this global predicament. It's a simple concept really – do it the way nature does. And that doesn't just mean the growing of food but the integration of people and landscape and energy and nutrients. Permaculture design is about the way those elements are assembled together for the best, and most productive result all round. I consider Permaculture to be the very pinnacle of sustainable design. Designers of all products and systems could learn a lot from the perfect permaculture garden; everything present has at least one productive function, preferably more; there is no waste – all systems recycle the by-products of others; thoughtful observation leads to working with rather than against nature and reducing the work and energy input required. If you are ever up Northland way check out Rainbow Valley Farm in Matakana, perhaps New Zealand's premier permaculture example.
Some of the most important permaculture developments right now are in urban centres. Transporting all that food is a problem in itself. We need to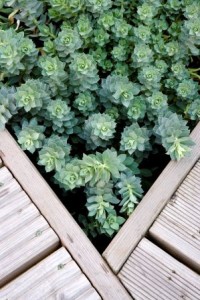 grow it where we eat it and make our rapidly expanding urban areas productive. Rooftop gardens, living walls and shared urban food gardens are cropping up (pardon the pun) all over the world's biggest cities.
At the Eagle Street rooftop gardens in New York you can view the skyscapers through a haze of lettuce leaves. They not only provide an education programme for budding chefs but sell their goods at their farm shop, through a community supported agriculture scheme (CSA) and do bicycle deliveries to local restaurants.
The concept of vertical farming may seem a little futuristic (some examples in that link are pretty sci-fi) but seeing as how we've used 80% of our traditional flat farming surfaces, it could be a smart move, and one that fits well in the urban environment. But we need to remember the "do it the way nature does" mantra – think of an ancient tree draped in vines, ferns and epiphytes – a vertical ecosystem. Living Walls are an innovative US landscape company who have created a vertical farm for low income residents in Los Angeles, which covers some of the health and social benefits of local food production and keeps a little closer to the philosophy of permaculture.
Here in NZ urban gardening bit more collective and hands on. Urban Pantry has the beginnings of something great going on with their first rooftop garden reported right here on Happyzine just last week. Then there's Ooooby (which stands for: 'out of our own back yards') the online revolution for local food producers across New Zealand and – who knows – the world. Like a sexy Transition Towns without the Armageddon vibe, Oooby certainly have the slick marketing and urban appeal of a well designed product – and are attracting members like bees to honey. But they are simply selling a 'good thing'; locally, sustainably produced food from land that used to be flowerbeds and lawns.
The next step for Oooby-ists and like-minded others is to take over those council parks and roadside plantings. With local elections coming up later this year, what a great chance to lobby your candidates for support – or go it alone if you fancy a bit of guerilla gardening! Stay tuned for Food, Glorious Sustainable Food Part II next week…..
GD Star Rating
loading...
GD Star Rating
loading...
Tags: Food, Permaculture, positive news