Home » Environment
A Conversation About Water Conservation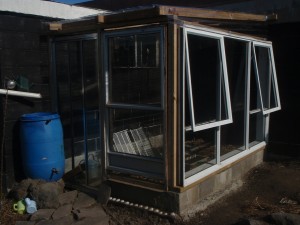 I check the weather online almost as often as I check my email. Not that it changes anything- we'll still get weather. So it seems almost ironic, in a very long wet winter, to be thinking about water conservation.
Despite living between the river and the sea and having an enormously high water table I still need to water my garden- especially after a fierce nor'west wind; my glasshouse doesn't get watered naturally at all.
It pains me the water we waste.
I have one 200l barrel that catches the rain that comes off the garage roof. In winter it overflows, in summer it runs dry in a week.
When it rains at night and I'm tucked up in bed I can hear the rain gurgling down the drainpipe, rushing off to meet the council's underground system; while soothing, it's also such a waste. If I was good at maths, I could come up with a sum that would tell you just how much water we wasted while I slept last night. But I'm not. So we might just have to agree that it's simply easier to do something about it.
There are many companies about that will help you professionally install a rain-water saving system. Round here, we're mad fans of DIY, so we did. Installing a rain-saving barrel was as easy as tying a piece of downpipe to a screw with a piece of number 8 wire (an old coat hanger) and pointing it in the direction of a barrel I'd raised up on some 'architectural' rocks. All the materials came from the council's local re-use centre. Some might say, when making the comparison, that the professional systems certainly look better, but they do roughly the same job: Saving water.
But 200 litres isn't enough! I still turn the tap on and waste beautiful water.
Every time I run a tap in the house I could be diverting that water to my garden.
It's referred to as grey-water recycling and you might have to check first what your council says about doing it. The cleanest way to re-use grey-water is to run it through a filtering system- like in a natural pond, using plants as your filters. Of course, depending on just how grey your water is, you could, probably, simply connect a hose to the outlet by the kitchen drain and send it out to your vege patch. After all, if it's washing the veges you're doing, why not water them as well? Other extremely simple and effective techniques might include putting a bucket on the shower floor.
On the list of Things To Do this spring (which doesn't ever appear to get any shorter) is to install a passive solar shower in the garden- obviously, we won't be needing a bucket!!
GD Star Rating
loading...
GD Star Rating
loading...
A Conversation About Water Conservation

,
Tags: Permaculture, water