Home » Environment
From Water Capture to Birthing into Water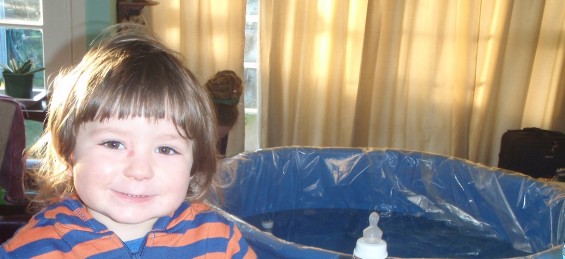 Last week I chatted merrily about water conservation, about my dreams to capture more and how to put it to use. A very keen part of the permaculture process. Another principle of permaculture is to apply self-regulation and accept feedback.
Within 24 hours of clicking on the "Submit for Review" button I was up to my ears in water. I mean, actually.
Hot water.
But there was no way I could do without it. Just as there was no way I was going to manage without the help of my partner and two midwives.
When David Holmgren was devising his ideas on permaculture design using zones, zone O being the heart of the home, where the most activity would take place, I wonder, was he thinking to include the arrival of our daughter?
On a day that I'd planned to sow seeds, make bread, do a load of washing I went into labor, ten days early, without a single tick on the list. I persevered. I could get two towels on the line between contractions. And then, when I knew I could resist no longer I picked up the phone, called in the team and headed to the shower.
Lovely, hot water. On my back and on my belly.
I sang.
I breathed.
I labored.
My midwife arrived not much later and suggested I got in the pool.
And so I did.
There in my lounge room was a big pool filled with 500 litres of water.
As the sun made its journey across the sky it created soft rippling reflections on my kitchen ceiling; my daughter made her slow decent. The sun set and she arrived, having brought the spring with her.
Today we planted our placenta beneath an almond, in the centre of our new fruit forest- hopefully a place where she'll play with her big brother…
GD Star Rating
loading...
GD Star Rating
loading...
Tags: Sustainability, water