Home » Environment
One Night by Candlelight
Submitted by rebeccamay on September 2, 2010 – 6:24 pm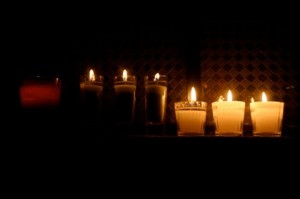 There's nothing like changing a newborn nappy by candlelight to remind me of the perils of Peak Oil. Romantic it wasn't.
For a few months there my bedtime reading was Rob Hopkins' Transition Town Handbook. That is, until, my pregnant self could no longer take having something else to worry about and I put the book down.
But the subject is never far from my mind.
My partner and I debate the subject frequently. While we agree that Climate Change is a serious threat to our way of lives, he tends to think that 'some more oil will always turn up' and I'm not so sure (and I secretly wish it wouldn't). Perhaps it's the mother in me, the need to prepare for The Worst Case Scenario and be pleasantly surprised if it doesn't happen.
Take that night's debate, for example. Ever the optimist (and perhaps, a little French romanticist as well) he suggested, being as we had candles going, that we might as well make an occasion of it and nibble on some nice cheese and open some bubbles we were saving. We had stuff to celebrate after all- Of course, I pointed out, we should celebrate that we know the electricity would come back on, soon even. But what would we do if it was always like this?Not save the cheese for special occasions?
Invite our neighbours over to share the moment, and conserve the energy spent in lighting our bedroom?
Thus the importance of Community.
Where we live we have a very strong community of people who do care about one another. We pop our heads over the fence, drop round meals: share the load. But do we know our neighbours well enough to make the next step? I'm not necessarily suggesting that they share every moment (particularly not that one!), but how about this: What about discussing sharing the next big purchase you make with someone nearby?
Just now we're talking about goat-share.
We don't have enough land to have goats, but I love goats milk and they'd be handy wee additions to the family. I have a couple of friends who think similarly. We each have the goat for one day a week; milk it in the morning, set it out to lunch midday and in the afternoon walk it round to your friend's place to carry on its wee adventure, free-grazing along the way. Think "modern day urban goat-herder".
Not convinced? (neither is my partner).
OK. What about sharing a chest freezer? Now that's a slightly more conventional idea. We all chip in for purchase, again for the monthly electricity bill, but we don't have to freeze an empty space, so the bill will be less! Less energy is used in creating just one freezer, and a little is used on the bike going to get your carrots.
I'm quite keen on getting rid of our car, or getting involved in a car-share scheme. One third of the energy used by a car over its lifetime will be simply in its creation. I'm not sure whether or not that makes our aging vehicle more or less economic, but the former nomad in me thinks hitchhiking would be a great alternative. (The mother counters this argument with the reality of 2 child car-seats and an arm load of back up nappies…)
In our local steps towards transition we have suggested car-pooling to out-of-village events, initiated swap-meets of food and clothing, and nurtured the idea of community- of knowing your neighbour and getting involved. Because we do take Peak Oil and its consequences seriously and Climate Change, if it's not abated, would have a considerable impact on our seaside lives.
Just now, we're still taking tiny steps towards change. We're aware of what we have to do, but we're a long way off achieving it.
GD Star Rating
loading...
GD Star Rating
loading...
Tags: candle light