Home » Environment
Trowel Power!
By Rebecca Toon – New Zealand
The hour of the trowel has come. Jules Dervaes is pioneering a revolution from his backyard that will change the way you feel about this humble tool and your own garden forever.
Since the mid 1980's he and his 3 children have been on a powerful journey, a path to freedom, to live and eat off the grid. After 20 years of trial and error, they have become so successful that they now produce an almost inconceivable 3 tons of organic food a year from their fifth of an acre property. Along with other rather unusual suburban features, like a mini farmyard with goats, chickens, ducks and bees and a hand powered washing machine, what is even more remarkable about their urban homestead, is that it is a 15 minute drive from the centre of LA!
If you were to visit the Dervaeses you would find yourself in an oasis of green, with eve
ry available centimetre teeming with over 350 varieties of juicy fruit and vegetables. Heirloom tomatoes, avocados, edible flowers, and giant black berries are peering out of hanging pots, growing up the fences and taking over the driveway. Once you got over the shock of seeing so much goodness squeezed into such a small space, you might wonder what initiated this phenomenal growth, and how on earth it is possible.
Well Jules Dervaes has always been a keen gardener and experimented with ideas of urban self sufficiency. Then in 2001 he learnt that GE food had entered the food chain and his outrage motivated him to get serious about growing all his family's food, which happily snowballed into a complete lifestyle change.
The prolific growth that has occurred since has been achieved by Jules and his 3 adult children Jordanne, Anais and Justin, working fulltime in the garden. They sell their produce to local restaurants and in an awesome example of recycling, deliver it to them in a car powered by biodiesel made with oil the restaurants donate. Along with a homegrown seed business, this is their main source of income, part of which they use to fund an education outreach program so we can learn their tricks. DIY solar panels, a solar oven and shower and hand powered kitchen appliances, enable them to sneak off the grid, and even give some back!
The consistently warm climate of California definitely helps to create this incredible lifestyle.  However, it was in the South Island of our beautiful land that Jules Dervaes first played with the idea of urban homesteading in 1973. The whole family returned to Aotearoa in May to present their new movie, Homegrown Revolution, at the Palmerston North Reel Earth Environmental Film Festival and to give a workshop organised with the New Brighton Project www.newbrightonproject.org.nz in Christchurch.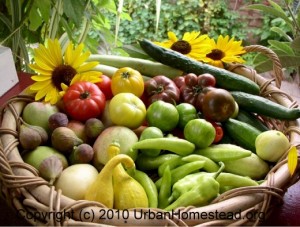 My sister and brother in law were lucky enough to be there with 200 others on a chilly winter Sunday morning in New Brighton to meet the family and share their secrets. One particularly helpful gem from a morning buzzing with inspiration was to simply work with what you've got. We don't all have the time and expertise of the Dervaeses, but we can start our own paths to self sufficiency today. You could begin by setting up a funky apartment rooftop
garden http://urbanpantry.co.nz/, growing a crop of delicious herbs on your kitchen bench, or by transforming an old bike into a groovy bike powered blender, anything is possible!
The other great gift my sister and her husband walked away with, was a taste of how powerful and freeing life off the grid can be. The Dervaeses have discovered positive solutions to major world issues like increasing corporate control of our food supply, fair trade, food miles, CO2 emissions, genetic engineering, pollution and scarcity; simply by producing their own food and power. As Jules states in the opening of his trailer for 'Homegrown Revolution' "Growing food is one of the most dangerous occupations on the face of this earth, because you are in danger of becoming free." And it's something we can all do.
The simple act of growing our own food can radically help save our planet and our pockets, but something else quite profound also occurs. There is something magical about the way the food we have lovingly planted and watered tastes and nurtures us in return, that food off the supermarket shelves just can't compete with. And we get to enjoy the benefits of a deep soul nourishment that comes from putting our hands into the soil and calming down to nature's rhythms, whilst creating a gorgeous vibrant environment to live in.
It's a win win situation, so dig out your trusty trowel today and join the bandwagon! Plant your first seed and enjoy watching possibility grow, knowing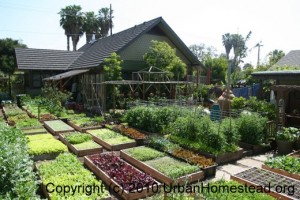 that in a suburb in LA one family have achieved the seemingly impossible and are happily living off the grid producing 3 tons of food a year, proving we have everything we need right now to live sustainably on this earth and the only limit is our imagination!
For even more inspiration check out the following sites:
http://www.urbanhomestead.org – the Dervaeses main website
http://www.freedomgardens.org – a free social networking site set up by the Dervaeses with great tips and how to find inspiring growers near you
www.homegrownrevolutionfilm.com (or visit YouTube) for the trailer to their award winning
http://barnyardsandbackyards.org a free social networking site for sustainable and holistic care of farm animals and pets in the city and country".
Rebecca Toon is a graduate of the Happyzine Positive Writing Course – this was her debut piece.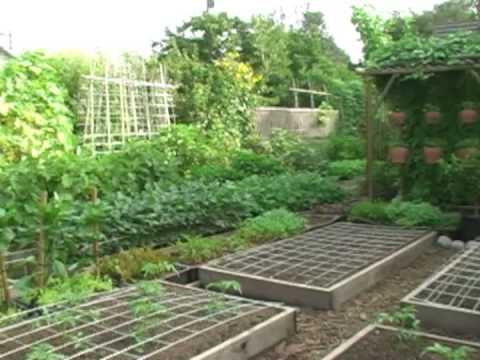 GD Star Rating
a WordPress rating system
GD Star Rating
a WordPress rating system
Tags: california, Food, goats, good news, green, honey bees, kai, Permaculture