Home » Events
A City Full of Stories
Submitted by Charlotte on September 10, 2010 – 5:10 pm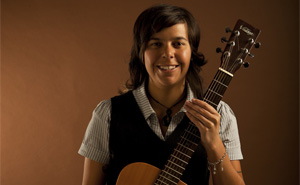 Media release
Auckland City Council
A city full of stories
Share the stories of the people and places that make Auckland unique during the Auckland Heritage
Festival from 18 September to 3 October.
More than 140 exciting, diverse and interactive events cover the historic spectrum, from our landscape and history to our diverse communities, celebrating the layers and fabric of the place we
call home.
The signing of the agreement between the Crown and Tamaki Makaurau, Ngati Whatua o Orakei on 18 September 1840 marked the beginning of the settlement known as Auckland, which is why we celebrate the Auckland Heritage Festival in September.
Over the last 170 years, our city has evolved and our stories are ever more diverse. Auckland city has the most ethnically diverse population in the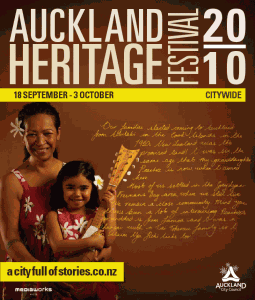 country and as we come together in the community, at work and in the playground, this diversity adds to the cultural fabric of our city.
"Heritage is not only a record of our past, it is an expression of our present. It's our rich natural heritage, our valuable cultural heritage as well as our people that make up the story of Auckland," says Councillor Greg Moyle, chairperson of the Arts, Culture and Recreation Committee.
"Auckland City Council is once again proud to present this festival, which offers people the chance to discover, experience, celebrate and share our wonderful heritage".
This year we invite Aucklanders to share their own stories and learn more about each other, visit www.acityfullofstories.co.nz to find out more and see the full programme of events.
The festival programme is full of events happening right across Auckland.  Some of our city's most cherished historic homes and buildings will open their doors to the public, including Cotter House, Ewelme Cottage and Highwic. People can also enjoy a guided tour of the recently restored Pah Homestead in Monte Cecilia Park.
Guided walks are also fascinating, with topics of interest and locations ranging from architecture, engineering, military and lesbian heritage, to many of our favourite volcanic cones, the Symonds Street Cemetery, Auckland Town Hall, and more.
There will be plenty of on-the-water activity, with trips to intriguing historic sites on Motuihe, Motutapu, Waiheke and Rangitoto islands, as well as heritage boat tours of the city's port and harbour.
There are also lots of great events and activities for families to enjoy, many of which coincide with the school holidays, including MOTAT's "I am the Last Tram" exhibition and a family adventure trail in Cornwall Park.
The Auckland Heritage Festival is one of more than 60 free events the council puts on for Aucklanders each year.
GD Star Rating
loading...
GD Star Rating
loading...
Tags: Auckland, ethnicities, festival