Home » Home
Eco-buildings for a Quake Zone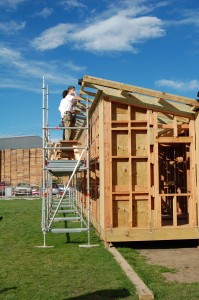 Not often do Wellingtonians feel geologically lucky. We sure do this week. While our hearts are with our Cantabrian cousins as they pick up the pieces after the big quake, our conversations have been peppered with "what ifs" and our secret thoughts have been "am I prepared? – must stock up the earthquake kit".
While the country as a whole is thankful for escaping this without loss of life, people in Christchurch and surrounds are coping with the huge clean up and even bigger rebuild. Some reports say one quarter of the CBD buildings are seriously damaged.
Could the loss of so many buildings actually have a silver lining?
It struck a chord with me as I listened to economist Lord Nicholas Stern, in New Zealand for lectures this week, when he said; "Architects are very cheery people at the moment – there are so many new things for them to do!" He was speaking on the subject of climate change and energy efficiency buildings – but there was an eerie parallel with the trouble – and opportunities – down south.
New Zealand's housing stock is notoriously inefficient; over 900,000 of our homes are poorly insulated and under-heated. While there is a government patch-up job ticking along merrily at the moment (the HeatSmart Warm up New Zealand insulation and heating subsidy scheme), the fundamental problem is we are not building our homes to a high enough standard of efficiency.
So while Canterbury painstakingly rebuilds, improved quake protection and safety measures will understandably be top of mind. Could there be a dual opportunity to create some of New Zealand's most advanced buildings both in durability to natural disasters and efficient use of ever more scarce resources?
I'm hoping the teams who are lining up for this year's SHAC (Sustainable Habitat Challenge) may have the chance to contribute. The current challenge (SHAC11) is the sequel to the premier in 2009, which seemed to spring from some fertile minds at Otago University and Otago Polytechnic. The challenge is that teams – of professionals, clients, tertiary students, or communities – have a little less than two years to design and realise either a new-build or retrofit which meets high levels of social and environmental performance. With project support and access to experts, funding and sponsorship it seems the kind of scheme where dreams can be realised. While sustainable building practises in New Zealand are alive and well, they are far from mainstream, with significant barriers around things like permitting of  "unusual" materials such as straw bale. Too often it ends up seeming too expensive or just too hard.
When experts and universities team up with architects and high profile clients, such as one of last years' SHAC winners, Housing New Zealand, sustainable houses get the profile and kudos they need to transcend those barriers.
The rebuilding of Christchurch needs to be quick, structurally safe and culturally suitable. But it can also use existing and easily available technologies to future proof those homes against rising energy costs and provide health and cost benefits for owners long term. Those who have suffered the trauma of losing a home deserve a better one to replace it.
GD Star Rating
loading...
GD Star Rating
loading...
Tags: green design