Home » Gardening
Strawberry Delicious – by Suzi Franks
Submitted by Charlotte on September 19, 2010 – 9:40 pm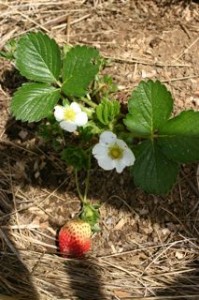 I adore strawberries, for me, next to my precious asparagus, they conjure up pictures of paradise here on Earth and when I pop one into my mouth… all my worries, troubles and infact the World pales into insignificance when I have heaven on Earth tantalizing my taste buds!!
This is what I feel when I'm sitting in my strawberry patch eating them, because they usually DON'T make it into the kitchen, but I won't tell if you won't!!  It seems I am not alone, one piece of trivia I found states: If all the strawberries grown in California in ONE year were laid berry to berry they would circle the World FIFTEEN times!! WOW!!!  and a survey in 2007 found 85% of children between 7 and 10 said strawberries were their favorite fruit.
Who Called it a Strawberry?
The etymology has been argued for centuries, one side argue the 19th century English children who picked the fruits and strung them together and sold them as 'Straws of berries' where responsible for the naming but others claim the 19th century practice of putting straw as a mulch around the plants t protect the fruit is responsible.
What Makes a 'Strawberry' Delicious?
Amazing stuff, but what makes this delicate 'fruit' so delicious?? Oh and by the way a strawberry is not 'technically' considered a fruit in horticultural terms because it's seeds are on the outside, but what do they know and what do we care what they call them…strawberries are strawberries!!
Strawberry Tales of Love
When I researched for this article, it came as no surprise to find that the strawberry has been frequently used as symbols of:
Love – Folklore denotes that if you 'double' split a strawberry then share it with a member of the opposite sex, love will be sure to follow
Longevity – Many cultures believe the strawberry has special magical properties to prolong life. The famous 18th Century writer Fontenelle, was no exception, a centenarian, attributed strawberries to be the cause of his longevity
Perfection – Medieval Christian stonemasons carved strawberries into the tops of altars and on the sides of pillars in sacred places, like churches, to depict perfection.
Strawberries for Healing Your Inner Being
Strawberries have a veritable cornucopia of natural healing properties, and have long histories of being used through out the centuries as natural remedies for kidney stones, reducing inflammation, natural antibiotics for infections, throat soothers, halitosis banisher, mood lifters and fever reducers. The Romans were particularly fond of strawberries for natural remedies for gout, fainting, blood purifiers and melancholy
Just Packed with Goodness
Strawberries have an abundance of health giving antioxidants and have been found to contain more vitamin C than the majority of citrus fruits with one cup containing a whooping 140% of the recommended daily dose!!
If this was not enough, these precious little fruits contain fibre, folate and potassium.
What better way is there to provide you and your family with the natural things in life they need to live a ling and healthy one?
What's your favorite way of eating this delicious fruit??
(For strawberry planting instructions visit me at http://2womenon2acres.com )
About Suzi Franks
I live in beautiful New Zealand on a 2 acre piece of paradise. I have hand built my extensive Kitchen Garden using bamboo for the raised beds that have
replaced one of the paddocks. We are nearly self sufficient in all our vegetable needs, growing every conceivable type of vegetable I can find. In fact, I think I am addicted to collecting heirloom seeds:)
I grow heirloom vegetables, heritage fruit and nut trees and rare native plants, and use organic principles with permaculture thrown in for good measure!! I have researched organic gardening for the last 4 years and searched high and low for my precious heirloom vegatable seeds and heritage trees.
I would like to share my knowledge and organic research findings with everyone, because I believe now is the time to get growing your own food and re-empower yourselves against the economic climate that we live in. I can guarantee that once you taste your own produce, hybrid or heirloom, you will wonder how ever we got to the tasteless offerings in the supermarket…
I have a dream: Our 2 acre piece of paradise will have an Earthship house, be self sufficient in terms of energy and food. We will use solar and wind power for energy and everything we aim to grow will either fed us or our growing number of animals:)
I also have a web site which is a cross between the tales of our experiences and a portal in which I can share my knowledge and experience of organic gardening and growing heirloom vegetables and heritage trees.
GD Star Rating
loading...
GD Star Rating
loading...
Tags: Gardening