Home » Uncategorized
Knitting our way out of Peak Oil
Submitted by on October 1, 2010 – 3:21 pm
3 Comments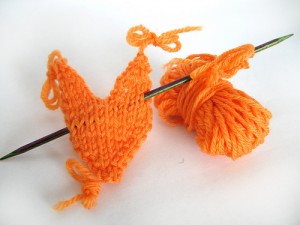 When we talk about Peak Oil and its impact on our lives we're really talking about the economic impact- because, from the environmental perspective, the sooner it's all gone the better!  From the economic point of view, when companies like Lloyds of London start talking about the "catastrophic consequences" of Peak Oil does that mean people sit up and listen?
Well, not really.  Everyone still keeps on driving down to the shop. Or buying cheap online holidays.
While we talk about economics, the temptation to buy the cheaper imported product is budget driven too -we've become so used to buying on a whim and throwing it away again with equally as little thought.  It seems ironic that a plastic item that has traversed the globe, that is laden with precious petrochemicals, can cost less than its organic, locally produced cousin.  However, this sort of cheap, throw-away consumerism will come to a screeching holt when the price of fuel starts rocketing.
Do you remember a few years back when all of a sudden the price of petrol topped $2 a litre? It wasn't just the petrol that became expensive-  our whole lifestyles became expensive!  The cost of producing everything rose along with the price of fuel.  This is the face of the future.
And Biofuels are no alternative.
Here we are, robbing the already poor 'east' of valuable food-growing land, destroying natural ecosystems and destroying the chance of local food self-reliance for those who desperately need it all to grow biofuels.  The fuels we're producing aren't any better either.  Originally, plant-based fuels were billed as being better than fossil fuels because the carbon released when burned is equalled by the carbon absorbed while growing.  But it's not that simple.  The equation doesn't include the energy used in making this conversion; and what about the changed land use?
Back to the drawing board?
Perhaps we can't do much to avoid the arrival of Peak Oil, but we can plan for it and equip ourselves with tools to prevent the catastrophic effect it could have on our lives. This is where we need to all pop along to the local library and borrow every book we can on permaculture. Or commission a permaculture designer to come and help you re-think your life.  The transition from our oil dependent lives to one of independence doesn't necessarily have to be painful; it certainly doesn't have to mean that we do without.
Somehow amongst the worldwide recession it suddenly became acceptable to be thrifty. Knitting is trendy again and the war-time motto of 'make do and mend' has been reinvented as 'upcycling'; being green is the new black.  Farmer's markets are popping up like mushrooms and 'local' has been given a defined region- often less than 100km.  But is this enough?
Many Christchurch folk have already contemplated a world 'without' while passing a few days without services recently after the earthquake.  My family went without water for 6 days and without electricity for 2.  Our lives were immediately simplified.  We realised that the way forward in this situation was to look to our community.  We conserved energy by cooking a single meal for many, heating and lighting one room; we bartered for showers (actually, the showers would be given freely, but we liked to bring gifts in exchange…) as if water was the new currency.
What we really need is to put a brake on our consumerist lifestyles; peak oil or not, we need to consider what the real impact of a changing climate is.  Making alternative fuels to run our combustion engines will continue to heat up the planet, riding a bike won't, growing and eating seasonally available veges won't, trading with your neighbours won't, and learning to un-ravel a jersey to re-knit into a rug certainly won't!
GD Star Rating
loading...
GD Star Rating
loading...
Tags: Sustainability