Home » Gardening
Before You Fertlise Your Plants …
Submitted by Charlotte on October 5, 2010 – 10:04 pm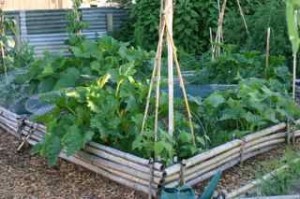 Like us, all plants need nutrients to live and thrive and the correct fertiliser at the right time can make the difference between success and failure. It's sounds simple, but, there are a few ground rules to follow as too much or the incorrect kind of fertiliser can do as much damage as none at all.
So lets take a look at when you may need to fertilise. You are walking around your garden and you notice some plants are not looking great, they may have stunted growth or just not thriving. What should you do?
First, you need to ask yourself:
What could be causing this? The answer could be several things, so before you reach for the fertiliser, consider these things –
Is the soil healthy?
By this I mean is it full of organic humus and compost? and Does it 'look' and 'smell' good? Pick some up, rub it between your hands, feel it and yes if you can dare yourself have a sniff!
A good soil should smell 'earthy' for want of a good descriptive word, the stronger the 'earthy' smell the better. This 'earthy' odour, denotes the soil's unseen biological activity and is called 'geosmin'. It is a result of the bacteria holding the soil together, breaking down organic matter to release nutrients for the plants roots to use and releasing hormones to protect against disease. If this is your soil, you need to look at another cause for your plants distress.
A poor soil will have a 'dull' kind of smell, sort of musty. A number of things can cause this: working the soil by too much digging especially when wet; not feeding it in the autumn with lots of compost, manure and organic matter; a soil in transition one that is between the use of chemicals and going organic. Depending upon what time of year it is, you could choose a liquid fertiliser tea for a short term solution and then fully correct the nutrient level deficiency in the autumn.
A 'dead' soil will smell putrid. This indicates serious work involved, a return to basics and a good cover crop and leaving it alone to totally regenerate.
A good soil should look and feel 'alive'. It will literally 'gleam' and be full of worms, easily broken up particles and be just dark damp. A poor soil will look lifeless, you will know as it falls between your fingers and doesn't have any structure at all, and its colour look pale and unwell.
What are the nutrient levels and What is the pH?
A good soil meter – one that measures nutrients and pH is simple to use or soil testing kit will be required here. A simple operation to check the plant has the right amount of nutrients and the correct pH.
An incorrect pH can stop certain nutrients becoming available, once the pH is corrected the nutrients will be 'released' back into the soil to be used by the plant. The same scenario is true of an overdose of a nutrient, it can block other nutrients being available, although there is plenty in the soil. Correct, the overdosed nutrient level and it 'releases' the previously withheld one.
A little complicated, but a necessary procedure as you could be fixing a 'believed' deficiency and actually make the problem a whole lot worse.
Are your plants in the right place at the right time?
This may seem a silly thing to ask yourself, but, are they? In our modern world, plants are not grown in their own natural 'ecosystem'. They are an unrelated mixture of species from a wide variety of habitats and soils. Each has specific nutrient needs and getting it right takes a little experience.
This is a huge subject and we have only just scratched the surface. I explain this subject in more depth in my beautiful 'Fertiliser Tea Guide'
Do you have any specific gardening problems? or is there a particular subject you would like me to cover, please let me know as it would be my pleasure to share my knowledge with you.
E-mail me at: suzi@2womenon2acres.com
GD Star Rating
loading...
GD Star Rating
loading...
Tags: spring