Home » Club Happyzine
Innovative Flower, Shrub and Herb Planter Finally Available in New Zealand (Join Club HZ and You Could Win One!)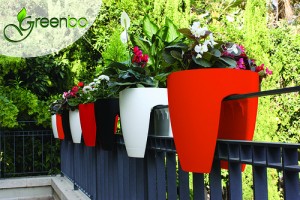 The Greenbo planter is a contemporary designed railing planter made of high quality UV protected Polypropylene.
Greenbo has a patented stability system to allow it to be attached easily and safely to any railing or banister. This means no more screws, nails or brackets that can cause rusting and damages to walls, banisters and fences. This also frees up valuable balcony space for city dwellers and allows for better use of small outdoor areas.
It comes with a built-in draining solution (two removable and cleanable trays) a sharp looking design and 8 different contemporary colours to choose from.
It is an easy solution to transform houses, pool fences, apartment balconies, motels, offices, shopping malls or any space with railings into a more alive, fresh environment.


Visit our website: www.greenbo.co.nz for more images and information. Please feel free to contact me if you would like any further information.
Contact info for Greenbo New Zealand
Mobile: +6421 704 889
Free Call: 0800 724 654
greenbo@rainline.co.nz
www.greenbo.co.nz
To order a Greenbo online click here.
To go in the draw to win a Greenbo, valued at NZ$69.95, join Club HZ today.  All New Zealand based people who join Club HZ before Friday the 22nd October 2010 will automatically go in the draw to win a Greenbo.
GD Star Rating
loading...
GD Star Rating
loading...
Tags: Gardening