Home » Uncategorized
Being positive: The Oil Field is still Half Full!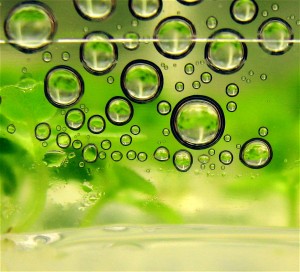 There are two types of people in this world. Folks who believe that the Glass Is Half Full, and the others that prefer to think that the Glass Is Half Empty. Me, I'm the Half Full type. Gloriously, happily, positive. About almost anything.  Except maybe about getting up early.  Or doing dishes.
However, it has recently come to my attention that totally believing in the Half Full theory isn't always the positive way to be.   Take Peal Oil for example.  When we reach the peak in Hubbert's Curve we can still remain positive about it, because, after all, there's still half left. Right?
Not really.
I hate to be the bearer of bad news in a good news magazine, but the other side of a peak is downhill.  If I was on my bike, or walking with an enormous pack I could really smile at that descent.  Oh yes, Easy Street!  But after this peak is reached, after we've achieved maximum production of oil, production rates then start their decline.  So while we can still say The Oil Field is Half Full, the half that we have left is the difficult half.
"All the easy oil and gas in the world has pretty much been found. Now comes the harder work in finding and producing oil from more challenging environments and work areas"
says the man who knows about these things, William J. Cummings, Exxon-Mobil company spokesman, in December 2005.
Sadad Al- Husseini, former Vice President of Aramco (the state owned national oil company of Saudi Arabia) estimated that 300 billion barrels (48×109 m3 of the world's 1,200 billion barrels (190×109 m3) of proven reserves should be recategorized as speculative resources.
If you're anything like me, you'll find those sorts of figures frightening.  I could quote you more, but it's spring and I'd rather be gardening.
The number one statistic that we should be interested in is this:  55% of oil used worldwide is consumed within the transport sector- that's the internal combustion engines we've all got parked on our driveways (except if you live in the US, where it's an astounding 68.9%!)
That's the bit we can do something about.
This morning I plonked my 2 kids in the back seat of my Toyota Dinosaur and traversed the city to watch a play.  Nothing wrong with that- more than 2 in the car is carpooling, right?  When I got there, late, I realised that the rest of the class had arrived by bus.  The bus wouldn't have consumed any more fuel if we were on it; a bit of exercise in running to catch it would do us good.  The bus stop was closer than the nearest carpark,  the fare less than the parking fee.
I could, of course, live more simply- look to entertain my children closer to home, somewhere where we could walk or cycle to.  Perhaps the grownups could paint our faces and put on a play for the kids!
In New Zealand there are companies who are putting time, money and energy into researching and creating Bio-Fuel.  Biofuels are a range of fuels that have been created using biomass-  a renewable energy source made from biological materials such as wood, waste, gas and alcohol.  Bioethanol, for example, is an alternative to petrol, and is created using sugar from plant crops.  Biodiesel is made from animal fats, vegetable oils and used greases.  The New Zealand made Biogold produces a biofuel; the biodiesel component of the fuel is manufactured from 10% canola and 90% used cooking oil from the NZ food industry.
Recycling is good.  We like that our chip fat gets used again.  When biodiesel is used as an additive to diesel it reduces the amount of carbon-dioxide and hydrocarbons produced.  The 10% canola in the New Zealand made fuel is produced in rotation with cereal crops so no food crops are displaced.
But does producing and using biofuels really provide us with the alternative, the Get Out Of Jail Free card to Peak Oil?  Or does it simply allow us to bury our heads in the sand…
One aspect of permaculture is to invite criticism and to seek advice- to try and improve.  I know I can do better!  I wish I could afford an electric car- but living as a peasant simply doesn't allow it.    Until New Zealand starts importing used electric cars from Japan (and then I'll wait another 10 years)  I'll just have to use biofuels and try not to drive down to the fish and chip shop.
GD Star Rating
loading...
GD Star Rating
loading...
Tags: green, green design, optimism