Home » Gardening
A Year Round Garden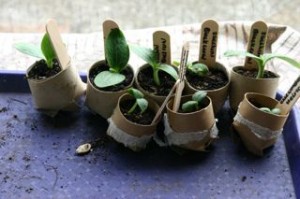 By Suzi Franks
I have just finished eating my saturday evening meal – roast  organic lamb with asparagus, artichokes and baby broad beans out of my Kitchen garden – not bad for what is known as the 'hungry gap'!!
And I got to thinking how most  people I speak to at this time of year are getting ready to plant their seedlings and sow their seeds for the growing season and have not harvesting any of their 'own' vegetables since last summer… they are not like me who has SOME kind of vegetable ready to harvest at any time of the year.
To me, New Zealander's have this unfathomable habit come compulsion to make ONE vegetable planting a year and this has to be done by Labor Day weekend (25th October) I want you to know, it need not be this way, you too can have a year round vegetable garden.
My Secret Revealed…
Try This Succession Planting Idea!
Begin in early spring – late September – with a few leafy crops – lettuce, spinach and other delights, a crop of potatoes and a few peas. Though this year it's only just coming time for me to begin as the rain has left me a soggy mess!! 🙂 Then it's a good idea to watch and wait, that rouge frost early to late October has caught many a good gardener out.
Once all risk of frost has passed, I usually wait until my Mulberry tree is in leaf after all the Roman writer Pliny, described the Mulberry as, 'The last to come into leaf and therefore the wistest tree of them all' and I take this to indicate it must be 'safe'
Now is the time for a sowing frenzy, but, only sow the amount of vegetables you can eat in ONE harvest. By this I mean, sow 4 cabbages, 2 cauliflowers and 6 broccoli, this is a manageable harvest and can easily be eaten in a very short time once maturity is reached.
Take it month by month during the 'spring like' weather and sow a little but often before the heat of the summer kicks in.  When this heat arrives, stop sowing and planting, as much as some vegetables love 'full' sun, this is only when they are mature enough to handle it.
This is the secret of succession planting, a graduated harvest during the year so you can harvest and eat without storing copious amounts in the fridge or larder, it only spoils the quality and nutritional value, however well stored.
Remember, you can begin ALL over again late summer, early autumn for that winter harvest. This last 'main' sowing will contain many spring favorites but also sow those winter warmers as well – kale, winter cabbage, spinach and lettuces etc.
I am building 'cold frames' and restoring my greenhouse for this season and I will be growing all sorts of goodies through out the winter months, I am blessed with only one sharp frost a year, so I can accommodate a larger variety in my winter garden.
I hope this has inspired you, I only have a short allotment of words, so much to tell you and SO little space – but please tell me what YOU do for your sowing and planting routine or if you have any questions please contact me:)
About Suzi Franks

I live in beautiful New Zealand on a 2 acre piece of paradise. I have hand built my extensive Kitchen Garden using bamboo for the raised beds that have replaced one of the paddocks. We are nearly self sufficient in all our vegetable needs, growing every conceivable type of vegetable I can find. In fact, I think I am addicted to collecting heirloom seeds:)
I grow heirloom vegetables, heritage fruit and nut trees and rare native plants, and use organic principles with permaculture thrown in for good measure!! I have researched organic gardening for the last 4 years and searched high and low for my precious heirloom vegatable seeds and heritage trees.
I would like to share my knowledge and organic research findings with everyone, because I believe now is the time to get growing your own food and re-empower yourselves against the economic climate that we live in. I can guarantee that once you taste your own produce, hybrid or heirloom, you will wonder how ever we got to the tasteless offerings in the supermarket…
I have a dream: Our 2 acre piece of paradise will have an Earthship house, be self sufficient in terms of energy and food. We will use solar and wind power for energy and everything we aim to grow will either fed us or our growing number of animals:)
GD Star Rating
loading...
GD Star Rating
loading...
A Year Round Garden

,