Home » Uncategorized
365 Days of Fun and Chillaxation – Blog 195 – Recycled Denim Challenge: Green Creativity At Its Best
Submitted by Charlotte on November 3, 2010 – 4:22 pm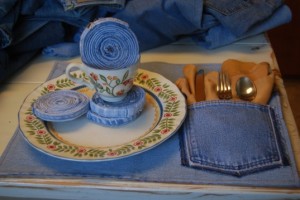 Inhabit.com have been busy with their 'Recycled Denim Challenge' of late.  This entry's my favorite, it's called 'Recycled Denim Coasters and Table Setting Mat'. It's a fresh, eye catching concept.
I'd like to see green design permeating the New Zealand culture a whole lot more and I've now decided to start focusing upon supporting the creating of the 'Green Generation' here in Aotearoa by offering a series of courses around the ebook I'm about to launch – 'Ten Ways to Chillax and Have Fun as You Live Your Green Dreams'.  As the title says – being green can be fun and relaxing.  It can also be totally in alignment with our passions.
Here's a green fashion video from inhabit.com that I thought nicely demonstated the ways fashion and environmentalism can dance together.  It's called: The Future of Fashion from the GreenShows
Todays' rating: 9/10
365 Days of Fun and Chillaxation (as I raise my gorgeous son and grow my good news website to a subscription base of 100,000 people).  The Low Down on this Blog.
Check out yesterday's blog.
GD Star Rating
loading...
GD Star Rating
loading...
Tags: art, green design