Home » Community
Whangarei: The Awakening
Submitted by on November 9, 2010 – 4:17 pm
3 Comments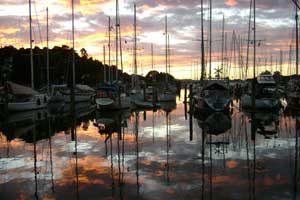 It feels that a wind of great energy is blowing over Whangarei (New Zealand) at the moment, with each new week being the start of a positive eco-orientated initiative. The once dormant city of the north is opening up to new ideas and is turning into an exciting and vibrant place to live.
Our recently elected mayor, Morris Cutforth is actively participating in every event to do with protecting the environment. On the night of his campaign victory he was attending, together with his wife Jillian, the screening of "Garbage Warrior" organised by the Green Party.
Whilst some of the members were introducing the project of a new local recycling station, I could see Morris nodding approvingly.  Morris also pulled up his sleeves to help carry old appliances to their recycling bags during the Eday collecting event that took place in town this week-end. In the meanwhile Jillian was trying to convince every volunteer to purchase the Garbage Warrior DVD that she had ordered for herself!!!
Our mayor has been elected on the promise of dealing with the sewage problem in the Whangarei Harbour, that makes the place dangerous to swin in or eat from …  As warning signs for sewage spills are spreading in the area, the community is prepared to support his action, and is hopeful that a change will soon occur.
As part of the new initiatives that have been flourishing around the election time, an active and enthusiastic committee has recently emerged : the Whangarei Vegan and Vegetarian Group has met for the first time this week-end with the idea of "connecting and build a social network of people with Sustainability and Non-Violence as overlapping common interests".
Twenty-seven people from a all range of age turned up to a first pot luck last Sunday.  While gathering around a full table of fantastic delicious food (Annah's vegan mocha chocolate fudge is simply irresistible -ask my daughter about it-!) talks were going about different aspects of healthy eating, animal rights, sustainability and politics.
Every one then packed up in the TV room to watch the Sunday program about Safe's new $2 million dollar fund to defend factory-farmed animals and Jan Cameron 's generosity (she is the founder of Kathmandu outdoor clothing) became the centre of the conversations.
My children, between two mouths full of vegan fudge, freshly picked fruits and organic icecream made it clear that they had found the purpose of their life: developing eco-businesses (my son is fascinated by renewable energies while my nine years old is a fervent animals and plants defender) in order to then help good-hearted organizations.
would have once thought that maybe Northland would not be the place to make this happen.  I have now changed my mind and I believe that this is where they will get their inspiration from! An exciting future lays ahead of us!
GD Star Rating
loading...
GD Star Rating
loading...
Tags: good news, vegan, vegetarian, Whangarei