Home » Community
The 100 Mile People Harvest! The Coromandel Visionary Who Turns Dreams into Reality
Submitted by on November 12, 2010 – 2:35 pm
One Comment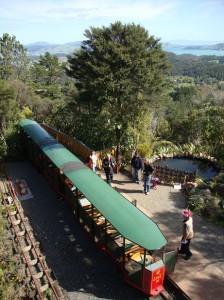 The 100 Mile People Harvest!
An inspiring four week harvest of visionary people and projects achieving the seemingly impossible within 100 miles of my Coromandel home.
Week 3: The Coromandel visionary who specialises in making dreams realities
This weeks harvest leads me into the steep slopes behind my Coromandel Town home to meet the infamous Barry Brickell, who has spent a remarkable lifetime making the seemingly impossible possible. In 1973 Barry bought 60 acres of steep abandoned farm land with the
intention of restoring it to a great kauri forest, building a railway by hand to glide through its impossibly steep hills and supporting himself with a thriving pottery studio. And after years of hard work and a thousand helping hands, that's exactly what he has done, attracting 40 000
curious visitors like me every year.
I was lucky enough to spend the afternoon with the lively 74 year old self defined eccentric and get a taste of how it was all possible.
A trip up the hill with a 74 year old eccentric
Barry and I started our afternoon, along with 70 other awe struck tourists, on a journey up through the layers of regenerating native bush on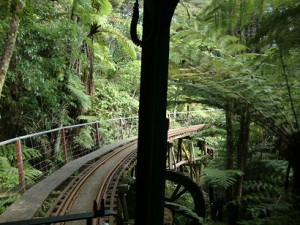 the lovingly made Driving Creek Railway, and as we passed over one of the first rivers where gold was first found in NZ, he shared with me the
story of how it all began.
Barry has always been ahead of his time. He was born with an innate love of our indigenous fauna decades before it was fashionable, manifesting early on as a child when he was caught planting out his mothers Auckland suburban rose garden with natives, she was not impressed!
This passion for our lands indigenous beauty, lead him to a degree in botany and geology. But his father had other ideas for his life and after succumbing to his pressure, he took up a job as a school teacher in Coromandel in 1961. He hated it. Two terms later he quit and set up his own pottery studio becoming NZ's first full time kiwi born potter. He built the lands first wood fired stoneware kiln pioneering a new style of pottery in the country and attracting curious potters from all over Aotearoa and the world. And in line with his desire to live in connected harmony with the earth, all his pots were made with local clay, a practice which he continues to this day and encourages others to follow. He also very importantly, along with other artists like Colin McCahon, instigated the change towards creating art that reflects NZ's heritage and landscape instead of looking overseas for inspiration.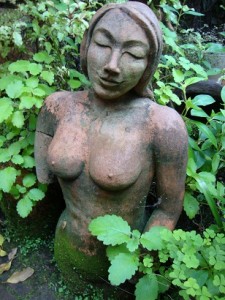 Despite his great success in pottery, Barry had other immense dreams waiting in the wings to be fulfilled. His innate passion for conservation remained as did a great fascination for engineering, so when the perfect opportunity to combine all his passions and creative outlets appeared in 1973 in the form of 60 acres of abandoned farmland at Driving Creek, he grabbed it, changing the course of his life and destiny of the land forever.
Restoring the giants
The dream piece of land Barry walked onto in 1973, was an unrecognisable shadow of its former self. If we were able to miraculously step onto it before humans arrived in Aotearoa, it would be like entering a whole new world. Imagine walking through bush alongside thousand year old kauri trees 26 metres in girth and 60 metres high, passing rivers and the sea teeming with a rainbow of dolphins, whales, fish and gold along the way, with the possibility of a chance encounter with a 2 metre high moa! What a wild, lost paradise of giants we would find ourselves in.
But after an initial less destructive Maori presence was followed by 170 years of radical European colonisation all that remained of this untouched utopia by 1973, were random tufts of shrubs on washed out eroded hillsides and an old abandoned cow shed. The hills had been mined for gold, ancient kauri giants taken away to become masts of British naval ships and the land burnt for weeks on end to extract kauri gum, more gold and to clear the way for pasture and cows. Finally in the 1930's it was abandoned altogether, with sheep farmers no longer able to make a profit off the step eroded hills, simply walking away.
It's a tale that has been repeated throughout the country. Since European settlers arrived in the early 1800's Aotearoa has lost over two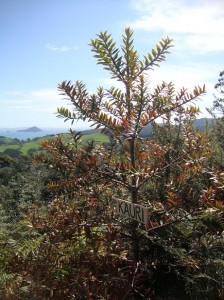 thirds of its pristine forest cover as the entire country was converted into as Barry succinctly says it "a huge farm to feed industrial revolution England".
Thankfully today 33% of Aotearoa's land is under the protection of the Department of Conservation and there are a prolifery of individuals and groups working towards restoring the balance so dramatically lost during this period of intense destruction.
Barry's own response has been incredibly profound. With the attitude of "if mankind burnt the forests down, mankind has the responsibility to replant them", he has done just that. Along with hundreds of others inspired by his passion and drive, most of the 60 acres has been planted out with baby kauri (lost to the area for 100 years), rimu, miro and totara, while smaller trees and shrubs have naturally regenerated with the aid of seed spreading birds.
It's an incredibly powerful experience to travel up on the railway through land that has been healed this way, and I can't help smiling as Barry with his characteristic enthusiasm, fondly points out the progress of an individual kauri he personally remembers planting.
Pots, trees and the world's most torturous railway, a match made in heaven!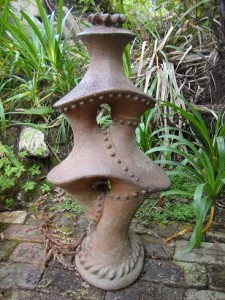 When Barry bought his land in 1973, he had a very clear vision of living a life fulfilled by art, conservation and engineering, and each passion developed alongside the others. When the first trees were being planted an initial simple railway was built to help transport them up the hill
and extract clay from the hills to make pottery. And as the trees grew and the pottery studio expanded, over 32 years of solid persistence the railway developed into 2.6km of incredibly steep narrow gauge tracks which he calls the "world's most torturous railway" with 8 bridges
and viaducts, 3 tunnels, 2 spirals and 5 reversing points, all made by hand. And the 3 trains that cruise over the lovingly handmade curved tracks were also made predominantly on site by Barry and his staff in the Driving Creek Railway workshop.
Even the retaining walls of the train tracks are filled with sculptures and murals made with the very clay they rest on by Barry and other potters from all of the world. Some are so earthy they appear to have almost grown up from the ground like the plants around them, while others like a large playful elephant, cheekily pop out at you from blind corners. This beautiful recycling of forms extends itself right down to the bottles of wine Barry so enjoys to drink, which have also ended up in the retaining walls!
Painting, pottery co-ops, glass blowing, writing, wildlife sanctuaries and art galleries……
What is so remarkable about Barry and Driving Creek is that beyond the awe of the trees, railway and pottery, there's actually more. There is a pest free wildlife sanctuary, onsite Czech Republic glass blower, pottery shop run by local potters, 9 wood and oil fired kilns, a
brickworks, bookshop, sculpture gardens and Barry tucked away somewhere writing out his latest insights into humanity and nature or building his state of the art gallery to display his bright vivid texturised paintings along with others by local artists of the area. Driving Creek is Coromandel's main tourist attraction, employing 13 staff and boosting the entire local economy.
A thousand helping hands
Walking around I can't help wondering how one person could achieve so much in a single lifetime. But as I stop to think about it, I begin to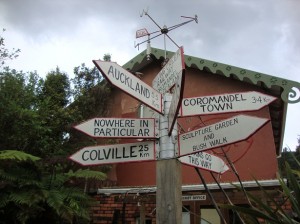 realise how many hands would have actually been involved in making this all possible.
It's one thing to have a great idea, it's quite another to have the confidence, focus and determination to attract the right people to help you realise it and that is something Barry has done very well. From annual resident potters coming from as far as Uganda, to the volunteers
and workers who have devoted hours to growing and planting out the hillsides in natives, and engineers who have helped with the track and the trains, each have been drawn in by Barry's abundant energy and inspiration and worked hard to create his dreams with him.
As fellow potter and longtime neighbour Petra Meyboyden says "If you were to make a sculpture with all the names of those who helped at Driving Creek, it would reach into the sky".
Barry's greatest gift
Perhaps Barry's greatest gift though is the inspiration he instills in all those who come, to achieve their own dreams by providing a living example of someone who has devoted their entire life to doing just that.
Petra Meydoyden, one of the first potters to sell her work in the DC pottery over 20 years ago, reflects, "From Barry I get the feeling that if you want to move a mountain you can. If your vision is strong enough you will draw all that you need to move the mountain to you and it will happen. Nothing is too big or unachievable in your life."
And that's exactly how I feel as I walk away from today's harvest, completely inspired to re-look at some of my own dreams that have been quietly gathering dust and nurture others that are sprouting new shoots ready to thrive. It's never too late to pick up the threads, follow your
passions and live a life you love. That's exactly what this world needs more than anything, people who aren't afraid to step outside the square and try something new. And Barry's life proves that once you do, with a bit of faith, focus and determination, the possibilities are
limitless.
For more details on Driving Creek Railways and Pottery check out:
www.drivingcreekrailway.co.nz, (07 8668703, 380 Driving Creek Road, Coromandel) or just visit!
Week 4: The final harvest, a smorgasbord of goodness:
There is so much goodness in this area I simply couldn't limit myself to writing about one inspiring person or project for the final week of my harvest. So I have decided to create a sumptuous selection of 10 local hotspots within an hour's drive of my home. Ranging from
huts in the bush where you can do a solo retreat for years, a government funded initiative that protects the health of Maori women while spreading the art of korowai (feather cloak) weaving throughout the Waikato, to the organic growers at Mana Retreat Centre's determined to grow their own mangos and a hidden hot spring paradise lost in the suburbs of Whitianga.
GD Star Rating
loading...
GD Star Rating
loading...
The 100 Mile People Harvest! The Coromandel Visionary Who Turns Dreams into Reality

,
Tags: dreams, green dreams, people harvest, potter