Home » Gardening
Pot of Fertiliser Tea Anyone?
Submitted by Charlotte on November 15, 2010 – 4:43 pm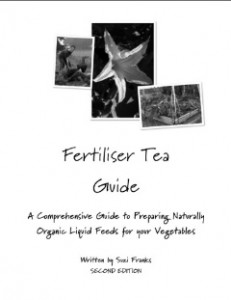 By Suzi Franks
I grew up in a household where there was always a pot of tea on the back of the wood stove, in my childhood, a good hot strong cup of tea was said to cure all ills or problems and had the added advantage of putting hairs on your chest!!
However, the tea we are talking about today, is not for human consumption and you cannot stand your spoon up in it!  – We are talking homemade 'fertiliser' teas for your plants.What Are Fertiliser Teas
Fertiliser 'teas', foliar feeds and liquid feeds, are all names referring to the same thing. All are, very simply, solutions made up of a 'nutrient giving' material and water.
The 'nutrition giving' materials are 'steeped' in a container of water for a few days or longer, depending upon the ingredients used.
The resulting concoction is a concentrate, which is then diluted with more water before being used on the plants. This diluted mix is usually the colour of a weak cup of tea, hence the name, and can be used to feed plants, vegetables and trees of all kinds.
The trick when using a fertiliser tea is to err on the side of caution. In this case, weaker (more diluted) is better, as many fertilizer teas contain ingredients that could burn and damage the roots of plants if applied in too strong a concentration.
Why use a fertiliser tea?
Fertiliser teas are mainly used in organic gardening at various times in a plant's life cycle to supplement a plant's nutritional needs, correct a nutrient deficiency or assist with natural pest control.
I am not a great advocate of using too many fertiliser teas, as I feel most of the goodness should already be provided in a healthy, humus rich soil.
But in nature, as in life, there are times when things need a helping hand, and this is when an application of a liquid tea can be used to great advantage.
A few rules…
A nutritious liquid tea will help by giving your plant a much needed 'quick fix' of nutrients, giving you the time to get to the real underlying source of a problem. But fertiliser teas should only be used on a 'quick fix' basis and not depended upon to make up for an unhealthy, nutrient deplete soil.
The only exceptions to this 'rule' are young seedlings, which benefit from the easily absorbed nutrients; and container grown plants, whose roots are restricted from searching the surrounding soil for all the nutrients it needs.

A point to ponder on…
While a good nutrient supply is important, young plants, trees etc will not respond to any fertiliser applications if they are suffering from poor drainage, lack of shelter, incorrect growing climates, adverse temperatures or disease, especially rot.
Different fertiliser teas can be used for specific problems at specific times in the plants growing cycle. For this reason it helps to understand what your concoction does and how, as well as understanding when and where to apply it.
Once again I have only touched briefly on this subject, but, I hope you are inspired! Please check out my Fertiliser Tea Guide It contains EVERYTHING you need to know about this subject and how to make your own liquid feeds for FREE!
GD Star Rating
loading...
GD Star Rating
loading...
Tags: fertiliser, organic gardening