Home » Community
Introducing Talents From My Whangarei community: A coffee with colourful Alivia Carrington-Hall.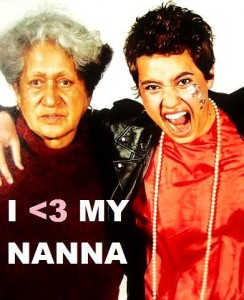 by Claire Chateau
"If you believe you have got the potential, you need to go for it!" said Alivia when I met her over a coffee a few weeks back. Her words have been popping up to my mind as I am working at my New Year's Resolutions. One of them being writing more articles for Happyzine to introduce our creative local community…Here we go…I'm doing it.
I first came across Alivia Carrington-Hall on a Pecha-Kucha night a few months ago and got really touched by her artwork. I have always had a keen interest for photography and her colourful and vibrant portraits caught my attention, contrasting with the local sceneries or black and white nudes that are usually exposed around here. I was curious to get to know more about  the artist behind these talented shots.
I thoroughly enjoyed my interview with this young woman, passionate and full of determination! It is Alivia's Nana , an "old school educated maori lady", who instilled strong values into her grand-daughter. She has been and still is of a  great influence. "I just love her, she's my world! She shared all her life with me. She highly values education and always said to me that career and success should come first".
There is therefore no doubt for Alivia that she is going to be successful. When I asked her to detail what the term meant to her and how she viewed herself in a few years time, she explained: "I will have finished my Major in photography and I will be working for a Fashion magazine."
The young artist is planning to be a student at Elam School of Fine Arts next year and is really looking forward to that. She expects to gain more technical knowledge but does not want the school to influence who she is deep down. "I know who I am and I don't want to change"!
Being the oldest of a family of seven children, this former Whangarei Girls High School Prefect, Alivia aspires to be a role-model for her siblings. She admits that her Whanau is important and the big thing is to make them proud. "I'm quite impulsive but I want them to know they can do it!".
How does her life in Whangarei come into the bigger picture?
Although she wants to travel and see the world, Alivia is determined that Whangarei and the wider Northland is where she wants to settle down. "I just love it here! After I've studied, I want to come back to my community and create more things. I want to set myself up here and get into stuff. It's all there really!"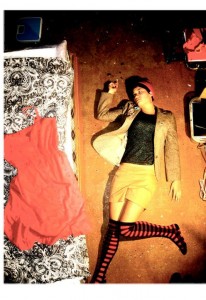 Her first exhibition in Tuatara Art Gallery in 2008 was a real success and she sold eight of her art pieces. Believing that local young artists need promoting, Alivia is currently organising a local exhibition called "The Lost and Found" in "The Basement", a newly opened exhibition hall in town. It displays various photographic and painting work from some of her friends."I just love working with and for the community. You learn a lot by being alongside with other creative people from a all age range. It's brilliant! It's all about supporting one another and build things together".
Alivia says that the colours and movement of her work is greatly influenced by  Francesca Woodman, an american photographer specialising in nudes blurred by camera movement and long exposure time, as well as by Andy Wharol.
If you are interested in seeing more of Alivia's pictures, you'll have to add her as a friend on Facebook -look for Alivia Wild-. One of her New Year's resolution is to set up a website to display her best shots!
GD Star Rating
loading...
GD Star Rating
loading...
Tags: art