Home » Food
The Good Old Days – In a Jar!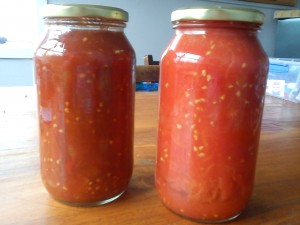 By Kara Whaley
We use a lot of tomatoes! Canned, fresh, I'm not fussy – they are delicious. And so, when I stumbled upon a table laden with very cheap, perfectly ripe, fresh tomatoes at the big shop, I quickly began loading them into my trolley. Giddy with the excitement that one can only gain from the thought of buying tom's at $1.00/kilo, I hurtled through shopping, and skipped out of the shop, half waiting for a strong arm to grab me at anytime, and an authoritative voice to loudly bellow "Excuse me lady, you've practically STOLEN those tomatoes, please step this way". Once in the car I started interogating the husband about the fate of our booty. Of course, upon arriving home, I realised I didn't have any of the ingrediants required to make anything relishy, or chutney-esque. But! I did have a large collection of preserving jars!
Because we've always adored pasta, I have done my part in keeping the pasta-sauce market bouyant. The only thing I have asked for in return, aside from the sauce, is the jar that it has come in. Mainly because I also got a free lid. And so, it was with great excitement that I hauled 6 jars, and lids, out of my preserving jar collection. Thanks to the reassuring guidance of Google and The Edmonds Cookbook, I figured out how to sterilise the jars and preserve the tomatoes!
The next shopping day couldn't come around soon enough! This week, I was going to knock the socks right off those tomatoes. Sure enough, there were the cheap tomatoes again. Confidence bolstered by the fact that noone had tracked me down using camera footage and licence plate tracking, I brazenly loaded the cheap tom's into my trolley, grabbed a few spices and vinegar, and headed home to make a lovely spicy Tomato Sauce!
The Sauce is on the left, the tom's on the right.
So, here's the guff on preserving tomatoes. They are low acid. This means they need a preserving agent to keep them safe in the jar. Trust me, nothing is going to put a low on your posh dinner party like an outbreak of botulism. Especially if you've just finished regaling everyone with your preserving antics. They all know where it's come from.
And so, the preserving agent needn't be the terrifying things we imagine them to be ie. Preserving agent 115 : warning – may cause oozing. For the jarred tomatoes, I simply boiled them and then added citric acid to each jar. The solids and fluids have seperated in the jar, this is normal. Big factories flash heat their tom's and this causes the fruit cells to stay intact. Done slowly in a pot, the cells have the chance to break down and the layered effect occurs. For the spicy sauce, the vinegar is the preserving agent. It also does us the big favour of being delicious.
Recipe:
3.5kg Tom's – in fact, I used about 7kg and then sloshed in a bit more vinegar. I don't think you can overdo the vinegar, too little vinegar is when you would get preserving issues.
1kg Apples – oddly, once you know they're in there, you can taste them. They round out the flavour.
6 Onions – you can never have enough onion. In my opinion.
3 Cups Sugar
4 Cups Malt Vinegar
2 Tbsp Salt
1/2-1 tsp Cayenne Pepper – I used straight chilli peppers, and I used the amount as more of a guideline. I ended up adding about 6 chillies because I love the heat. Taste the stuff while it's cooking, if it's not hot enough, throw in some more. If it's too hot, you've just prepared your xmas gifts for dear friends and rellies!
1 tsp Peppercorns – which I didn't have so I used straight pepper.
1 tsp whole Allspice – I only had ground, but I figure, it's the flavour I'm after.
2 tsp whole Cloves – Once again, I used ground. I should mention, that right about here I started to embellish and with all due respect to Mr Edmonds and the cookbook crew, I deviated from the recipe and began adding wee shakes of tumeric and generous pinches of cumin.
Throw it all in a pot, boil for about 2 hours. You can sieve it, I didn't, as I prefer that hearty, chunky style sauce. Bottle it in your sterilised jars. I have a sneaking suspicion that the longer I can leave this stuff, the better it may taste.
Because I'm not a patient creature, I recently neglected all my store bought sauce and busted open a jar of the tom's to use – they were wonderful. If you have invested in the pasta sauce sector, my advice – sell, sell, sell!
GD Star Rating
loading...
GD Star Rating
loading...
The Good Old Days - In a Jar!

,