Home » Youth
The ReGeneration Roadie Blog #1
Submitted by Charlotte on March 9, 2011 – 9:27 pm
Ten young New Zealanders with different skills and backgrounds are travelling round the country for 15 weeks with the aim of discovering and learning about the good stuff going on in Aotearoa. Ten detectives, on the hunt for ideas, inspiration and stories of positive change… this is the
ReGeneration Roadtrip!
The roadie is a collaborative involving people from a range of different organisations. The diversity of the crews skill-sets and our intention to work together gives us the opportunity to collect a huge amount of knowledge and have a big impact in the places we land. We'll be starting
conversations, running schools workshops, film screenings, community events, intergenerational jams and making short documentaries about
awesome people, projects and places in each region of Aotearoa.
The big idea on this trip is to meet lots of awesome individuals, both to increase our own understanding of the movement for positive change that's
happening in Aotearoa and spread that radness far and wide.
Our first week in Nelson did not disappoint. Iain Frengley from www.splashroom.co.nz and I had the immense privilege of interviewing a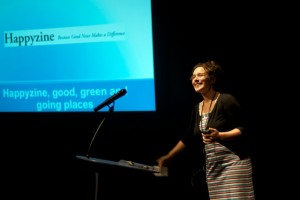 couple of wicked women – Verena Maeder from SolidEarth and Charlotte Squire from your very own Happyzine. You can check out the short films
we've made about them and their work here.
A highlight for me this week was catching up with Andy Booth from SolarCity. He comes across as the consummate businessman, but scratch the
surface and you'll find an avid environmentalist with a history of innovation and activism. I'm betting there are some great stories there. Our short film
about him will be available in a month or so, but in the meantime, check out his current work
Our crew also had the pleasure of staying with two intentional communities – the Braemar Ecovillage in Nelson and the Riverside Community just outside of Motueka. It's inspiring to see people living out their ideals and taking on board concepts of peace, equality and community.
The ReGeneration Roadie crew (from left to right); Will Watterson, global issues expert and New Zealand Manager for the Global Poverty Project;
Saskia Nieuwlands, youthworker extraordinaire from the Invercargill YMCA; Josh Vial social entrepreneur and creater of the innovative business,
Enspiral; me, Lani Evans, Co-convenor of the ReGeneration Project; Billy Matheson, co-convenor and founder of the ReGeneration Project; Jill
Hayhurst, a PhD student in social psychology from the University of Otago; Iain Frengley, award winning film-maker and one of the Splashroom Media
founders; Tim Bishop, head of the Sustainable Habitat Challenge (SHAC) project at Otago Polytechnic; Guy Ryan, CEO of the Inspiring Stories Trust
and Rick Zwaan, who's just returned from representing New Zealand's youth at the Cancun International Climate discussions (missing from this photo).
We're just about to launch into week two of the Roadtrip and we'd love to see you! Send us an email lani@regeneration.org.nz or check out our
website www.regeneration.org.nz for info about upcoming events or if you'd like to catch up for a conversation.
GD Star Rating
loading...
GD Star Rating
loading...
Tags: regeneration