Home » Uncategorized
New Zealanders Lead Global Earth Hour Community in Annual 'Lights Out for the Planet' event, and Go Beyond the Hour
Submitted by Charlotte on March 26, 2011 – 10:42 pm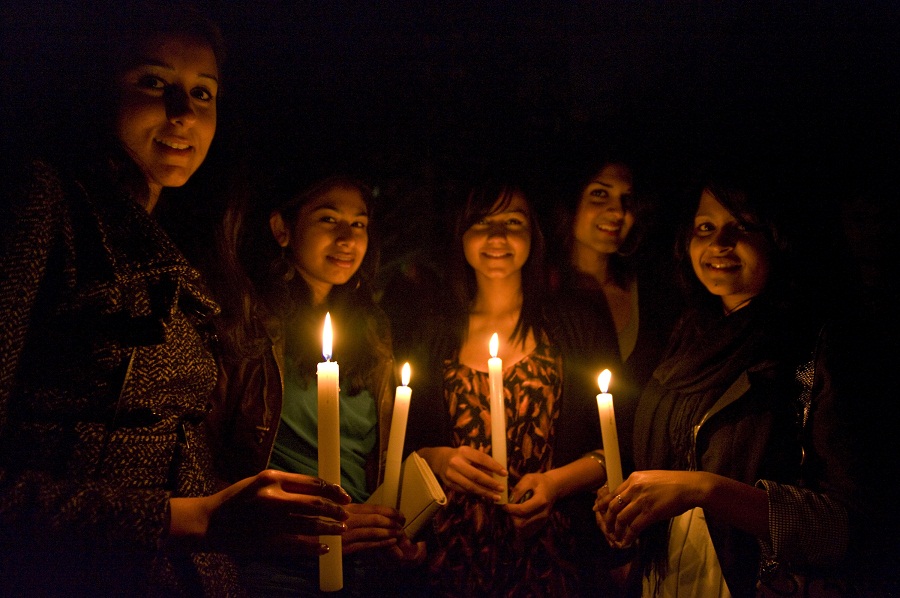 26 March 2011
Tonight New Zealanders led the global Earth Hour 'lights out for the planet event', symbolically switching off lights at 8.30pm for one hour, to show their commitment to protecting the planet.
Wet conditions in some areas of the country failed to dampen the enthusiasm for Earth Hour celebrations – from families in Geraldine taking part in an Earth Hour magical lantern walk, to Selwyn residents dimming the lights for an Earth Hour barn dance, through to revelers in Napier enjoying candle-lit celebrations in cafes and bars, New Zealanders came together to celebrate Earth Hour.
In the capital, Wellington's Mayor Celia Wade Brown switched off lights for the Earth Hour event at the Carter Observatory.  Speaking at the event, WWF-New Zealand Executive Director Chris Howe emphasized the collective power of the Earth Hour global movement: "When we take small actions as part of a global community, we can make a big difference and create a future where people live in harmony with nature," he said.
In Auckland, the Sky Tower switched off lights, whilst Hamilton's Earth Hour revelers braved thunder and lightning to attend Earth Hour 'lights out' events at restaurants and bars, and people in Alexandra enjoyed music by candlelight in Centennial Park.
As New Zealand's Earth Hour ended at 9.30pm, the lights went down in Fiji for Earth Hour, and the event's domino journey around the world began. A record 134 territories and countries are set to take part in Earth Hour, according to the global coordinator of the initiative, WWF. This year, the emphasis of the campaign is on what happens when the lights come back on:
"This year, Earth Hour's global message is strongly focused on inspiring people to make a personal commitment to build on the momentum of Earth Hour and go 'beyond the hour'," said WWF-New Zealand Climate Change Campaigner Lee Barry.
"Through celebrating Earth Hour, people are pledging to take action in their own lives to protect our world – from using the car less to switching off lights when we don't need them," she said.  "Earth Hour shows us that when our small individual planet-saving actions are taken on a global scale, they can make a world of difference."
Beyond the Hour pledges from New Zealanders ranged from Hamilton Mayor Julie Hardaker making a pledge to buy a reusable coffee Keep Cup to reduce waste to Misti_NZ from Hamilton committing to 'turn my backyard into a native oasis for the wildlife'.
Through its new Earth Hour Community Fund, WWF has supported five New Zealand councils and communities running Earth Hour events that engage and inspire people towards collective action on sustainable living – Central Otago, Hastings, Selwyn, Tauranga, and Upper Hutt.  People in these regions have been taking part in Earth Hour events tonight and throughout the day, from a 'Healthy Homes, Happy Pockets' Earth Hour public seminar on energy efficiency, to communities in Alexandra learning to lighten their tread on the planet, including a session on the dark art of composting.
"New Zealanders are strong supporters of Earth Hour, with large proportions of the population taking part over the last three years.  It's clear Kiwis want action on climate change, and are prepared to take personal action to do their bit," said Ms Barry.  "WWF is committed to making sure the government also takes strong action on climate change, which will make living sustainably easier for everyone."
GD Star Rating
loading...
GD Star Rating
loading...
New Zealanders Lead Global Earth Hour Community in Annual 'Lights Out for the Planet' event, and Go Beyond the Hour

,
Tags: earth hour, earthhour