Home » Green technology
Revolution in Building Makes Exceptional Home Performance Affordable – Introducing Little Greenie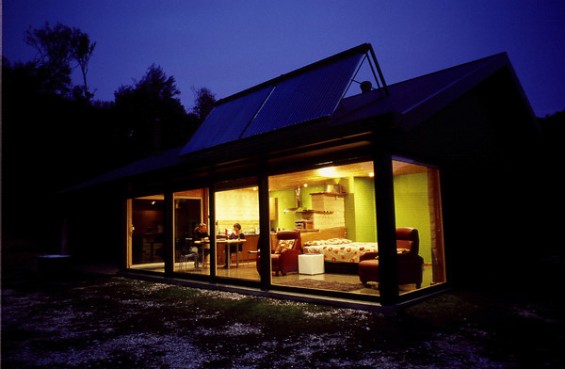 Little Greenie – Media Release – 21 April 2011 – Page 1 – Contact 0274 539 099
Media Release | For Immediate Release | 21 April 2011
REVOLUTION IN BUILDING MAKES EXCEPTIONAL HOME PERFORMANCE AFFORDABLE, NEW REPORT SHOWS. SO ARE HOME BUILDERS GETTING THEIR MONEY'S WORTH?
A report (Little Greenie – Get the Facts) released today about a Golden Bay home dubbed Little Greenie shows that Kiwi homebuilders could be getting significantly better performance for their money.
Little Greenie, designed and built by Lawrence McIntyre, is the highest rated energy efficient house in the country (9/10 stars) and provides exceptional levels of comfort with heating bills of less than $70 per year.
The report, independently prepared for the Hikurangi Foundation, the Energy Efficiency Conservation Authority (EECA) and Little Greenie Design & Build by Housing Analyst Verney Ryan, details how Little Greenie is designed with five major principles in mind – energy efficiency, low maintenance and longevity, quality craftsmanship, and value for money. It details how innovative double frame construction and attention to detail, especially in insulating, sets Little Greenie apart from normal builds.
The Report concludes, "Little Greenie provides a practical and achievable method of building to a higher level of performance … and delivers a unique opportunity to educate and inspire the residential construction sector in NZ".
Little Greenie's designer and builder Mr McIntyre, says "It would take very little up skilling for every builder in New Zealand to use Little Greenie principles. And it would change the standard of kiwi homes overnight. But architects and owners are slow on the uptake. Wake up!"
Liana Stupples, Director of The Hikurangi Foundation, says "If Kiwis are planning to build or do major alterations to their house they should read this report. It tells us that we could be far better off spending money on a model like Little Greenie than other designs."
The report's author Verney Ryan says "If you add in the health and comfort benefits of living day to day in a warm, dry house; the psychological benefits of a reduced maintenance house knowing that a once a year wash is all that is required: Little Greenie is something of a revolution in building."
Christian Hoerning, Senior Technical Advisor of Buildings at EECA, says "What this house clearly shows is that by using a combination of good planning at the outset, good workmanship and quality materials people can have a home that is exceptionally comfortable and super-efficient all year round – and it doesn't cost that much more than the average new build. There are no space-age design and construction methods here; no expensive niche technologies, just conventional methods and materials, used in a much smarter way."
The report identifies that Little Greenie's extraordinary 9 star performance can be built for just $2,136/m2, considerably less than many "eco" houses. While this costs a little more than a standard house built to the current minimum building code, the superior performance of Little Greenie way outstrips the cost. The return on investment works out at about $77,000 over the lifetime of the home a fifty year period, thanks to lower operational and maintenance costs and the upfront costs repay themselves in as little as 14 years (if other non-financial factors are taken into consideration).
A similar New Zealand house built to the current minimum building code is estimated at costing $1,766m2 but would only achieve an energy rating of 4.5 out of 10 stars and would cost $670 per year more to run for energy alone.
The findings of the report should inspire builders, architects and people intending to build a new home to consider Mr McIntyre's methods of construction – especially in situations like the rebuild of Christchurch.
Home builders should ask "If I am spending good money anyway why can't I have the best performance?"
Mr McIntrye is available as a consultant. Little Greenie is also available to stay in, to experience the comfort and learn about the principles of energy efficiency.
For further information please contact:
Janie Walker | Comms, Hikurangi Foundation| P: 0274 539 099 | janie.walker@clear.net.nz
Vicki Connor | Communication Manager | EECA |P: 04 495 8269 | Vicki.Connor@eeca.govt.nz
Lawrence McIntyre | Director, Little Greenie Design and Build | P: 03 525 7184 | stay@goldenbayhideaway.co.nz
View or download more photos of Little Greenie here:
www.gbhideaway.smugmug.com| P: 03 525 7184
View or download the full report or summary report at Hikurangi – Little Greenie Full Report
Next pages: Get the facts – why is Little Greenie so energy efficient and cost effective?

Why is Little Greenie so energy efficient and cost effective?
The Facts
 It has a 9 star HERS rating as compared to a 4.5 HERS rating for a code level house.
 Provides an extremely high standard of insulation, which retains all the heat absorbed through the windows. By joining the wall and ceiling insulation Mr McIntyre allowed no chance for heat to escape. This has ensured a year round constant temperature ranging between 18 – 24° c – without additional heating.
 Has the potential to have energy cost savings of about $670per annum.
 Little Greenie delivers a comfortable indoor environment that consistently meets World Health Organisation (WHO) recommended indoor temperatures year round with minimal heating energy input.
 Has simple, high strength, well insulated raft floor and foundation system which can be used at sites with different ground conditions including those requiring pile foundations.
 Is suitable for earthquake areas – the floor and foundation system is on the ground and the requirement for trenches is eliminated. This greatly reduces labour costs and the amount of excavated material on site, as well as the obvious benefits in an earthquake.
 An estimated return on investment in excess of $77,000 over a 50 year period when lower maintenance costs are also taken into account.
 Only marginal additional costs to build (at $2,136/m2 compared to $1,766/m2 for the code level equivalent), which provide a return on investment in less than 21 years and have the potential to add to the capital value of the house.
 The Department of Building and Housing figures suggest that a 'small' house of 145m2 could be built for $1,660/m2. If built to a similar 145m2 size, Little Greenie costs would work out at about $1,925/m2 – a difference of only $265/m2; and Little Greenie would continue to provide year on year savings in energy and maintenance as well as providing much more comfortable and liveable conditions for this small additional amount.
 Research from a BRANZ conference paper (100$ Worth of Comfort: The Real Value of Energy Technologies) suggests that we could assume that the benefits of building to Little Greenie specifications might return non-energy benefits that are 2.5 times more valuable than the energy savings, which would probably reduce the payback to about 14 years – and that is without the added capital value that might accrue (it is likely that people will pay a premium for a warm comfortable house that has a high rating).
Little Greenie – Media Release – 21 April 2011 – Page 4 – Contact 0274 539 099
 Little Greenie provides a practical and achievable method of building to a higher level of performance through well crafted passive solar design techniques and high levels of insulation, that deliver a unique opportunity to educate and inspire the residential construction sector in New Zealand.
 Has high efficiency double glazed windows and doors providing controlled ventilation to the dwelling.
 Has been designed to minimise electricity demand throughout with provision of 24 volt low energy lighting and super efficient appliances like fridge and gas cooking facilities.
 Is low maintenance – constructed as a traditional kiwi frame house, the exterior cladding is durable, vertical pre-painted Coloursteel, which does not require painting.
ENDS
GD Star Rating
a WordPress rating system
GD Star Rating
a WordPress rating system
Revolution in Building Makes Exceptional Home Performance Affordable – Introducing Little Greenie

,
Tags: green energy design