Home » Blog
365 Days of Fun and Chillaxation – 362 – Head Over to Our April Green Dreamers Facebook Page to Cheer Them To the Finish Line
Submitted by Charlotte on April 26, 2011 – 5:10 pm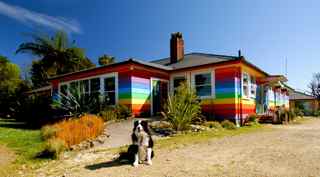 Well it's the 25th of April, which means over on the April Green Dreamers facebook page we've got five days to go.  Feel free to head on over there to cheer some of our green heroes on.  I'm sure you remember what it's like when you're reaching for a goal – you need all the support you can get.  I've LOVED running this page. It really is such fun and such an honour to be mixing with such inpiring people.  You should see all the cool stuff happening over there – I'm talking: a one month food challenge to only eat food from within a 100km radius, a Wellington collaborative project, a mission to bring trade aid products to someone's library workplace, we've got the NZ Youth Delegation over there calling out for fresh youth to represent NZ at climate talks and the list goes on.  Ahhh, proud motherly smile. It gives a girl hope for the planet.  So much good is happening right now.
Today's rating: 10/10
365 Days of Fun and Chillaxation (as I raise my gorgeous son and grow my good news website to a subscription base of 100,000 people).  The Low Down on this Blog.
Check out my NEW ebook 'Ten Ways to Have Fun and Chillax As You Live Your Green Dreams' – how to mix positive thinking with going green to achieve fantastic results (for yourself and the planet).  Now you can 'Like' the facebook page '30 Days of Fun (and Chillaxed) Green Change – April 2011′ and reach your Green Dream along side other green-dreamers, this April 2011
GD Star Rating
loading...
GD Star Rating
loading...
Tags: green dreams