Home » Events, Headline
Open Day at the NZ Clean Energy Centre – Taupo
Submitted by Charlotte on May 1, 2011 – 12:12 pm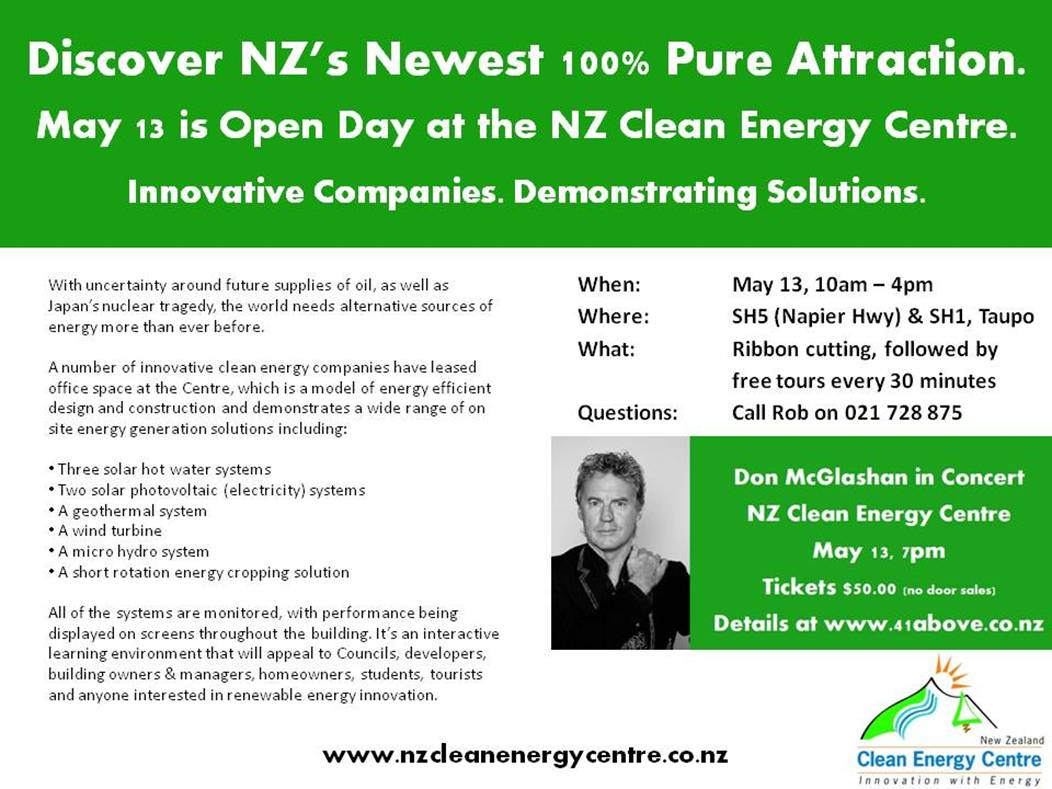 On May 13 we are hosting an Open Day at the NZ Clean Energy Centre in Taupo to give you an opportunity to visit the Centre and take a tour. There will be a ribbon cutting ceremony at 10am, following which tours will be offered every 30 minutes through till 4pm. Our MP, Louise Upston will be in attendance from 12:30 – 1:30pm. You may arrive at any time between 10 and 3:30 and be taken on a tour. (Please note that this is not our formal grand opening – this event will take place in late June.)
The invitation is below. As you will see, there's also an inaugural evening concert at the Centre featuring ex Mutton Birds frontman Don McGlashan. Bookings for the concert are essential and may be made through www.41above.co.nz
If you're coming from out of town, why not enjoy a relaxing weekend in Taupo? The Hilton Lake Taupo – just 700 metres from the Clean Energy Centre on the Napier-Taupo Highway – is offering luxury accommodation to our guests for the nights of May 13 and 14 from just $185.00 per night. The hotel features sweeping views over Lake Taupo and Tongariro National Park. To book your accommodation or find out more about this offer, please click here.
If you are interested in the NZ Clean Energy Centre but are unable to make the open day, please call me on 021 728 875 or email me. Opportunities available include:
Tenancy – limited spaces are still available in Stage 1
Technology demonstration
Representation of your solutions
Exhibiting at the NZ Clean Energy Expo to be held October 14-16. This event is supported by NZ2011 – the government office responsible for showcasing NZ during the Rugby World Cup.
Participating in an Investor Forum to be held during the Clean Energy Expo
GD Star Rating
loading...
GD Star Rating
loading...
Tags: green energy design