Home » Arts
The Auckland Writers and Readers Festival 2011 Boasts Record Numbers
Submitted by Charlotte on May 19, 2011 – 6:13 pm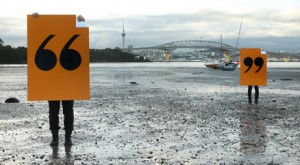 The Auckland Writers & Readers Festival 2011 boasts a 21% increase to a record 32,000 attendance during 11-15 May.
Auckland's Aotea Centre lit up for five days and audiences came in droves. School students, university students; people from Auckland, Christchurch, Wellington; regular Festival-goers and first-timers curious to sample some of the surprising events on offer for this years Auckland Writers & Readers Festival.
Download Happyzine's ebook 'Ten Ways to Chillax and Have Fun As You Live Your Green Dreams' today.
The inaugural Wordy Day Out hosted at The University of Auckland delighted a multitude of people whose interest veered towards YA literature. Bernard Beckett, Cassandra Clare, Brian Falkner, Mandy Hager, David Hair, Karen Healey, Margo Lanagan, Paula Morris, Garth Nix, Meg Rosoff and Sean Williams wowed the crowds, signed their books and kicked off this inaugural event in style.
We look forward to more of the same next year – and a whole lot more of the new, diverse and wonderful writing, ideas and language, memories and lives that some of the world's and New Zealand's finest novelists, poets and non-fiction authors will share with hungry minds.
This year was a huge, happy success and we thank you for your part in it.
www.writersfestival.co.nz will post author pics, media snippets and more in the next day.
Dreaming of a green career? Check out the Green Dream Launch Pad Course – June, 2011.
GD Star Rating
loading...
GD Star Rating
loading...
Tags: auckalnd, reading, Tamaki Makau Rau, writing