Home » Uncategorized
New Zealand Bee Week: 30 May – 03 June 2011
Submitted by Charlotte on May 30, 2011 – 6:08 pm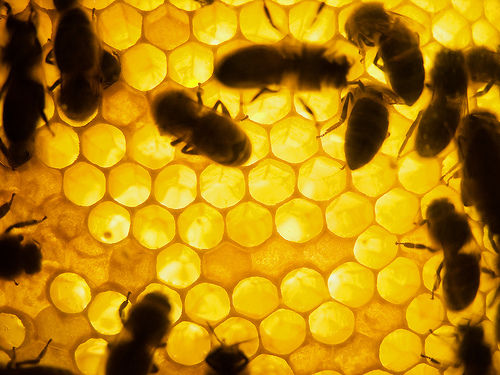 Every year the National Beekeepers' Association of NZ runs a National Bee Week. This year Bee Week will run from 30 May to 3 June.
More than one third of what we eat is the result of intensive pollination by bees, yet the humble honey bee is battling to keep New Zealand's hives alive.
Bee Week has been established to highlight the value of honey bees and beekeeping in New Zealand.
Daniel Paul, the CEO of NZ's National Beekeepers' Association says, "Our bees need clever science, smart growers and farmers, and strong biosecurity."
The bee industry in New Zealand has been hit by the Varroa mite and American Foulbrood, and there are other potential threats, examples being pests and diseases, across the Tasman not currently in New Zealand that could devastate the industry here.
Bees are crucial to New Zealand's primary sector, with a role far beyond honey production. Estimates suggest $5.1 billion of the country's annual GDP is attributable to intensive pollination through domestic honey sales and exports, beeswax and exported honey bees.
A few quick facts:
•       About one third of our food comes as a direct result of honey bee pollination.
•       Around $81million worth of honey is exported each year.
•       About 3,251 New Zealanders keep bees.
•       There are about 388,369 beehives in New Zealand.
Bee Week is a way to raise the profile of bees and the beekeeping industry in New Zealand, with a public awareness programme that includes media liaison, giveaways, seed promotions, printed materials and activities for children – including a colouring competition and word find puzzle.
The colouring compeitions can be posted to the NBA at PO Box 10792, Wellington 6143. All entries received before 03 June 2011 will go in the draw to win a Buzzy Bee prize pack. The prize pack includes a selection of Buzzy Bee toys and puzzles, Raymond Huber's children's novel – Sting, and a $20 Palmers garden voucher – a total value of around $200.00!
This is just a brief run down of what the NBA is doing, but feel free to develop your own fairs, visits, displays etc. Let's get involved, spread the world and show Kiwis how important honey bees are to New Zealand.
Please click here to download a copy of our Bee Week background document, or for more information please contact the NBA on 04 471 6254 or 021 953 787.
From: The National Beekeepers Association of New Zealand website
GD Star Rating
loading...
GD Star Rating
loading...
Tags: honey bee