Home » Business, Headline
Happyzine Teams Up With Fresh FM To 'Chillax and Have Fun'
Submitted by Charlotte on June 5, 2011 – 7:36 pm
Press release
Happyzine
Sunday 6th June, 2011
Fresh FM Teams Up With Positive Green Writer to Encourage Community to 'Chillax and Have Fun' As They Go Green.
Nelson's community radio station Fresh Fm is partnering up with Golden Bay writer and editor Charlotte Squire to share the positive green message of her new ebook 'Ten Ways to Chillax and Have Fun As You Live Your Green Dreams'. The new electronic book is available to buy on the Fresh FM website, as a fundraiser for the radio station.
The ebook features interviews with a number of successful environmentalists world-wide, offers tips about maintaining a positive attitude as an environmentalist, shares useful tools for people are serious about creating green projects, businesses or careers, and encourages people to call upon their unique strengths to make a difference for the planet.
Charlotte, who founded and edits the good news website www.happyzine.co.nz, says she'd had the ebook brewing inside for ten years before she finally got around to writing it.
"Once upon a time I thought all environmentalists had to either grow organic food and live off the land, or sail the seas angrily saving whales. I wanted to help out too, but as neither idea appealed to me, I had no idea how," she said.
"I'm not much of a gardener, I'm happier eating the organic food! But I love to communicate and I'm an enthusiastic person by nature. Eventually, after much trial and error, I realised that I represent one of the millions of people with the perfect personality for green change-making! So I put my writing skills to work!"
Mike Williams, Manager of Fresh FM is excited about the ebook and the opportunity to share such a positive green message with listeners around the top of the South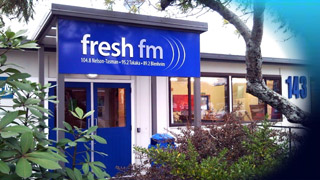 Island.
"This is a brilliant Ebook from long-time friend of Fresh FM, Charlotte Squire. It's inspiring, challenging and uplifting. This Ebook will inspire and invigorate you – get you thinking about how easy it could be to achieve all the above and have a ball doing it!"
Mike aims to sell 1000 ebooks via the Fresh Fm website, earning Fresh FM ten thousand dollars. This funding will put towards the relocation of their Nelson studio from Collingwood Street to Founders Park, which Mike describes as "a very expensive necessity".
To down-load the ebook from the Fresh FM website now head to www.freshfm.net and click on the links.
GD Star Rating
loading...
GD Star Rating
loading...
Tags: ebook