Home » Business
BIG Little City Announces Restaurant Month
Submitted by Charlotte on July 22, 2011 – 1:58 pm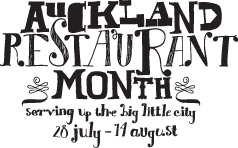 Get ready to clear your palate Auckland, this 'BIG little City' is gearing up to launch its first ever Restaurant Month, celebrating the very finest of world-class dining experiences across Auckland's central city.
For 19 days from Thursday 28th July until Sunday 14th August 2011, central city restaurants will be putting their best foot forward; giving Aucklander's the opportunity to indulge in the flair and creativity of our inner city restaurants along with the chance to win a trip to New York to experience the best restaurants in the 'Big Apple' as well!
With over 60 restaurants involved, this is the time to experience the exceptional cuisine that the City has to offer.
Alex Swney CEO Heart of the City says, "Restaurant Month will truly showcase some of the city's best urban eateries. And with the downtown area being so large and diverse it is a fantastic opportunity for Aucklander's to discover something brand new or indulge at the great favourite haunts".
Restaurants will be buzzing with the clink of glasses and clatter of plates as chefs create delicious and unique meals for a selection of special menus to celebrate Restaurant Month. There will be something for everyone, with prices for set menus catering to every budget ranging from under $20, $21-$30 and $30 and over.
All participating restaurants will also take part in the 2011 Restaurant Month People's Choice Awards, where by diners will rate their eating experiences across four categories, leaving the final decision of crowning the best Auckland Central City restaurant as voted by avid diners and would-be food critics.
Thanks to the  following environmentally responsible businesses for supporting Happyzine:
Eco-friendly –  Reusable for years upon years
Safe & non-leaching – BPA free (bisphenol-A)
Solid food-grade stainless steel – Super hygienic & clean
Add to this, surprise bottles of Champagne that will be given away to some lucky diners and every Restaurant Month customer having the chance to win a tantalizing trip for two to New York for NYC Winter Restaurant Week 2012…and Restaurant month will serve up a lot more than just great mouth watering culinary experiences!
To find out more, go to www.biglittlecity.co.nz
GD Star Rating
loading...
GD Star Rating
loading...
Tags: Auckland, kai, Tamaki Makau Rau