Home » Environment
International Hopebuilding News: Model garden in Mali builds sustainable protection for organic cotton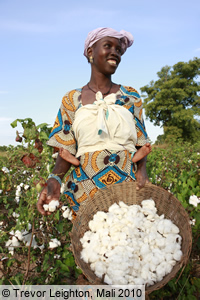 New Agriculturist
Some very inspiring news gets lost in archives – we're resurrecting some Hopebuilding stories for Happyzine readers.
Mali is one of the largest cotton producers in Africa and about 40% of rural households depend on cotton for their livelihoods. But with world cotton prices having plummeted since the 1970s, and organic Fairtrade cotton selling for up to 50% more than conventional cotton, the Mouvement Biologique Malien (MoBiom), an organic farming cooperative, has been supporting its 8,000 members to produce cotton organically since 2002.
By growing organic cotton, farmers no longer use agrochemicals, which are often expensive and can harm the environment and health of the farmers. But as organic production has increased, so has the exploitation of local plant species used to control pests. Realising that their increasing exploitation of useful pest control species from the wild was becoming unsustainable, farmers from Yanfolila (a MoBiom community) approached the Millennium Seed Bank (MSB) to help them domesticate a number of the natural pesticide species they use.
Through training and the improvement of local facilities for seed storage and wild plant cultivation, the MSB has been working in Mali since 2003 to conserve useful plants and build the capacity of communities to successfully store and propagate species that are locally important.
"Seed banks are depositories of precious genetic diversity of value to agriculture, forestry, horticulture and medicine," explains Moctar Sacandé, MSBP international coordinator. "They play an increasingly important role in helping communities find new ways of conserving and using natural resources sustainably."
GD Star Rating
loading...
GD Star Rating
loading...
Tags: hopebuilding, organic, organic cotton