Home » Community
International Hopebuilding News: Community-Based Management Protects Mozambique Coastal Fishery Today, Tomorrow and Forever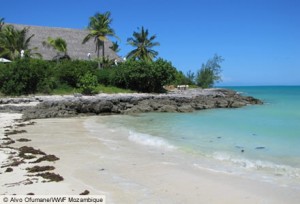 Some very inspiring news gets lost in archives – we're resurrecting some Hopebuilding stories for Happyzine readers.
Georgina Smith, New Agriculturist
June 2011
The north-eastern coast of Mozambique boasts stunning coastal forest, rich coral reefs and mangroves. Yet devastating and unregulated fishing practices have left only smaller fish and threatened the regions' delicate ecosystem. In 2002, local communities asked for a 750,639 hectare area along the coast to be protected as a national park and the resulting Quirimbas National Park is the first in the world to be established at the request of its inhabitants.
With support from local NGO, Association for the Environment (AMA), and the World Wildlife Fund (WWF), the 100,000 park residents continue fishing while enforcing strict restrictions on harvests; Community Fishing Councils, trained by WWF, monitor 'no-take' sanctuary zones which act as breeding areas. Penalties for harvesting from no-take sanctuaries include confiscation of equipment and perpetrators risk criticism from the rest of the community.
This management technique has resulted in booming stocks, in particular of pearl oyster (Pinctada capensis). Carefully managed rotating harvest zones have also been introduced, where fishermen can collect boosted oyster stocks from designated rotating areas.  Read more on Hopebuilding.
Nelson's busy organic shop – healthy food, happy people, great service, caring for the environment.  Corner Tasman & Grove Streets, Nelson.  Ph 03 548 3650.
GD Star Rating
loading...
GD Star Rating
loading...
Tags: Environment