Home » Environment
International Hopebuilding News: Young People Create New Life and Lush Urban Garden in Former Kibera Waste Dump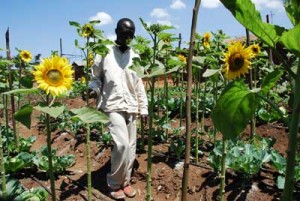 Some very inspiring news gets lost in archives – we're resurrecting some Hopebuilding stories for Happyzine readers.
It took the Kibera Youth Reform Group just 105 days from the time they started clearing a site that was waist-deep in garbage to the first harvest of vegetables from a lush green garden that is the first of its kind in Africa's largest slum. The Kibera Youth Reform Organic Garden, which now feeds 30 families and also earns income, has been such a miracle that many other groups receiving donor funding tried to bask in its success.
The credit, however, belongs to an unlikely group – former criminals whose lives were shattered by Kenya's post-election violence, and wanted to start a new way of life. In April 2008, Claire Niala, a doctor who began working with the group after the election, came to visit her friend Su Kahumbu, who runs an organic farming company named Green Dreams Ltd. Claire said that the group's 70 young men and women wanted to turn a garbage dump in Kandimiru, one of Kibera's villages, into a farm where they would grow crops for themselves as well as for sale. But they needed some technical help, and that was where Su, who actively promotes organic farming in Kenya, came into the picture.
Green Dreams, which Su started on 10 acres in Tigoni in 2000, became Kenya's first locally-certified organic farm in 2004, producing fresh vegetables, fruit, dairy and poultry products. Green Dreams shares knowledge about organic farming with small-scale rural farmers, and the proposed organic farm seemed a great opportunity. Su agreed to help with co-ordination and planning and provide technical advice.
The young people, who had previously only known a life of crime, began with the massive job of clearing all the garbage off the land. It is a tiny plot, 70 by 15 metres, bordering the railway line, but it was three metres deep in garbage dumped by nearby residents. The garbage was compacted and tied down under tarpaulins on one side of the plot.
GD Star Rating
loading...
GD Star Rating
loading...
Tags: green dreams, organic gardening