Home » Food
Book Review: Party Food for Girls by Alessandra Zecchini and Arantxa Zecchini Dowling
Submitted by Charlotte on October 2, 2011 – 6:29 pm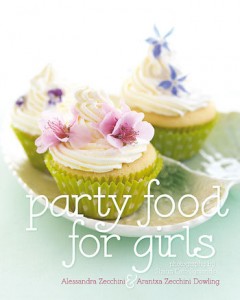 Note: Members of Club Happyzine go in the draw to win a copy of Party Food For Girls – make sure you join up by this Friday the 3rd October to be elligable for the draw.  The winner will be announced in our weekly ezine on Monday 10th October!
Review by Charlotte Squire
If you're like me and you're going through the 'kid's party' phase of life, check out Party Food for Girls.  It's written by New Zealand based Italian mother – Alessandra Zecchini – and her twelve year old daughter – Arantxa Zecchini Dowling – which means the recipes are simple, decadent and, thanks to the Italian influence, surprisingly healthy.  The set out to create the ideal cook book for the twelve year old girl to enjoy and follow.  The final result is brimming with luscious and easy to pull-off recipes, some of which I intend to personally whip up next week for my son's four year birthday (I'm thinking the Vanilla Dream Cupcakes, the Chocolate Truffle Cupcakes and the Kid's Sangria).
Party Food for Girls is visually very appealing, it's brimming with close-ups of extremely lush party food, and step by step images, which most definitely works for me as a 'spell it out for me nice and simple' kinda girl.  It features a great collection images that made me sigh and feel suddenly hungry.  It has a great balance of the essential lush chocolate recipes that every party food cook book should have, a fine quota of whipped cream and berries, plus some lovely classic Italian recipes such as pizza, giant pasta shells and stuffed cherry tomatoes.
The other thing that must be said about this marvelous book (which I had originally intended to pass onto another Happyzine reviewer, but quickly became rather attached to myself) is I note the authors offer natural colour options such as berry juice and (small quantities of) spirilina to use in their icings.
I thought this was rather nifty.  It gives the book an unexpected level of depth, taking it beyond a collection of great looking food that tastes great and is beautifully
prepared and styled to a collection of recipes with some nutritional integrity.
I've been raving about this book to my Play-Centre Mum friends, and my family.  I think it's a great buy for any parent with the best of intentions and limited confidence in the party food department!  Oh yeah, and it's a winner for twelve year old girls too.
Party Food for Girls
Alessandra Zecchini and Arantxa Zecchini Dowling
Published by New Holland
ISBN 9781869662998
RRP $29.99
GD Star Rating
loading...
GD Star Rating
loading...
Book Review: Party Food for Girls by Alessandra Zecchini and Arantxa Zecchini Dowling

,